Sponsored by the Student Activities department, more than 400 cheerleaders from 21 Dallas ISD high schools participated in the second annual Dallas ISD Summer Cheer Camp at the Sprague Athletic Complex.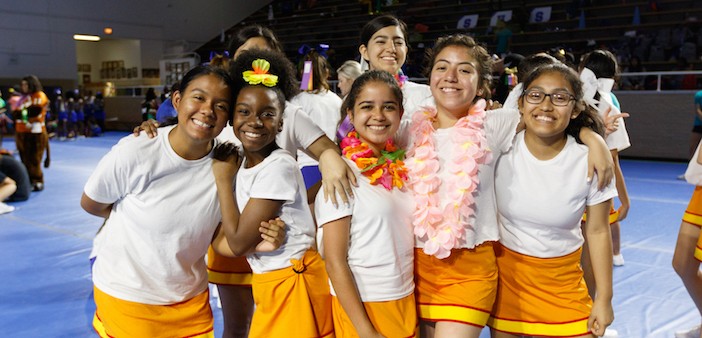 Every high school cheer program was invited to attend the four-day intensive camp where they learned cheer basics, routines, chants, tumbling, and stunts which culminated to a final cheer camp showcase that was open to family and friends. While the squads worked with professional cheerleaders and staff, the cheer coaches received training on coaching basics, safety, and the UIL Spirit competition.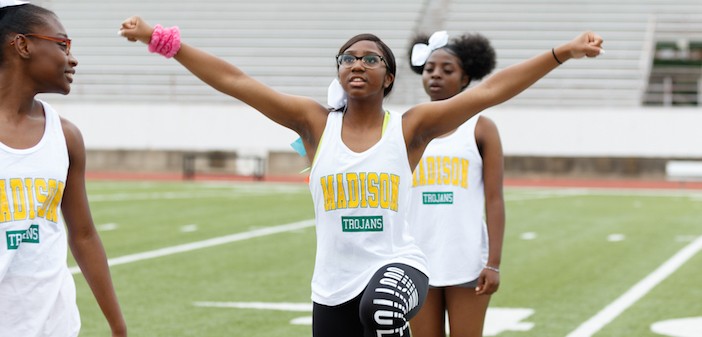 Of the camp attendees, more than 100 cheerleaders tried out for the Spirit Star designation which is the top honor at camp. Cheerleaders were nominated who exemplify leadership and a good attitude, while exhibiting a high level of technical skills in jumps, motions, dance and stunting. Once an athlete is nominated at camp, they must try out to be chosen as a Spirit Star in front of a panel of camp staff. The top cheerleaders who received the Spirit Star designation also received an invitation to perform at the Macy's Thanksgiving Day Parade in New York City.
Destiny Mora – Seagoville
America Briceno – Hillcrest
Myrian Miranda – Hillcrest
Laura Lugo – Hillcrest
Callie Bewley – Bryan Adams
Jayla Cheeks – Samuell
Onaja Johnson – Kimball
Keyona Johnson – Kimball
Katelayn Vault – Carter
Chloe Bell – Carter
Tamaria Watkins – Madison
Wendy Martinez – Adamson
Jonathan Renteria – Pinkston
Temetrius Williams – Pinkston
Isabel Rosales – W.T. White
*Laura Estrada – W.T. White
Leslye Diaz – W.T. White
Sherry Hernandez – Sunset
Arely Munoz – Sunset
Maria Zamarripa – Thomas Jefferson
Debra Contreras – Molina
Angelia In – Bryan Adams
*Brianna Moya – Bryan Adams
Anthony Glosson – Booker T
Sadie Schiermeyer – Booker T
Mekinna Knight – Booker T
Zoey Barnes – Booker T
Vincent Reid – Booker T
Emma Myers – Booker T
Max Denissen – Booker T
Georgia Starnes – Booker T
Kyndall Ash – Booker T
Tamara Fields – South Oak Cliff
Jayla Ward – Lincoln
Shaja Vaughn – Lincoln
Nayeli Rico – North Dallas
Kamberlynn Price – Roosevelt
Tayza Briggs – Wilmer-Hutchins
Nautica Atkins – Wilmer-Hutchins