The City of Dallas is partnering with Dallas ISD to provide free summer activities for local children.
Send a Kid to Camp is a free summer program for children ages 6–14. The programs is managed by the city's Park and Recreation Department.
The Send a Kid to Camp program will take place at 15 Dallas ISD campuses every Monday–Thursday from 8:30 a.m.–4:00 p.m. The children will be fed breakfast and lunch every day and go on several engaging field trips. The program will run June 17–Aug. 1.
There is no cost to enroll. However, the availability is limited to approximately 70 students per campus. Registration is first-come first-serve and must be done in person by a parent at the campus. The parents must show an ID when enrolling the students (driver's license, military ID, passport or consular ID are all valid).
"Our best advice is to be there early," said Sergio Garza, youth services manager for the City of Dallas. "We are anticipating most of the sites reaching capacity within the first hours of registration."

The summer activities used to take place outside or in city facilities. But for the last two years, the district has worked with the City of Dallas to host the camps at several schools.
"Both the City of Dallas and Dallas ISD have the same goals: to improve the lives of our kids and provide them with opportunities that they might not have," Garza said. "With that in mind, it's worked for our best interest to partner and utilize our resources for the best of our ability and have a bigger reach for the community."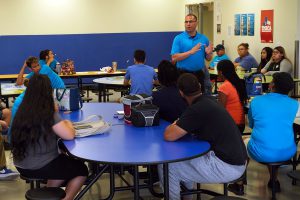 Fifteen of the 19 locations are at Dallas ISD schools. For a complete list, visit
https://www.dallasparks.org/181/Send-a-Kid-to-Camp