The end-of-year ACE reception honored outstanding assistant principals and coaches who have redefined what it means to be a leader in education.
Dallas ISD Assistant Superintendent Jolee Healey discussed the importance of recognizing stellar educators making a difference.
"It's important to celebrate individual efforts, because each person contributes," Healey said. "Everyone makes a difference and we have outstanding people changing the game for students."
Since the programs' inception in 2015, ACE schools have improved in all areas. Academic performance has increased in core content areas, attendance has improved, and parents feel more positive about their child's school.
ACE director Shatara Stokes opened the reception with words of encouragement and discussed the trailblazing efforts of leadership these individuals showcased for a long-lasting impact.
"You have absolutely answered the call from the district to give students and communities that need the most, the best!" Stokes said. "You are building a legacy of hope and restoring the belief that all students can and will achieve—no matter what zipcode they live in. You have shown it can be done and now it's time to show how it can be sustained."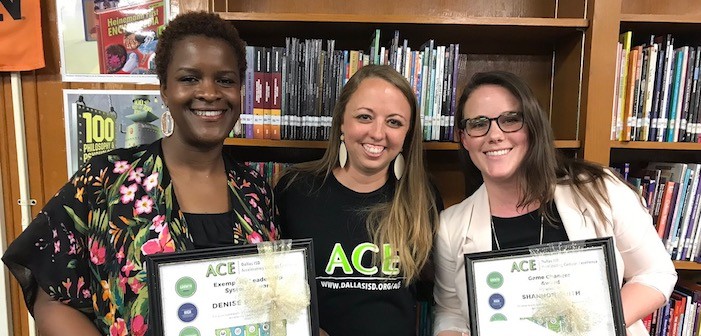 Dallas ISD's Accelerating Campus Excellence (ACE) plan accelerates school transformation through three primary factors: strong school leadership, effective teachers, and high expectations for both students and staff.
The ACE Leadership model incentivizes top teacher leaders, principals and campus leaders to study leadership, curriculum alignment, data and other best practices and then apply these practices to improve teaching and learning on their campuses. Campus leaders next school year will embark upon a network-wide study of "The Leadership Challenge" and "Dare to Lead" to master the leadership skills that will allow them to build the capacity of teacher leaders for long-lasting success.
Teacher leaders next school year will be able to learn and study personal leadership and instructional leadership skills through ongoing training and have the opportunity to earn badges as they master skills and support the teachers at their campus.