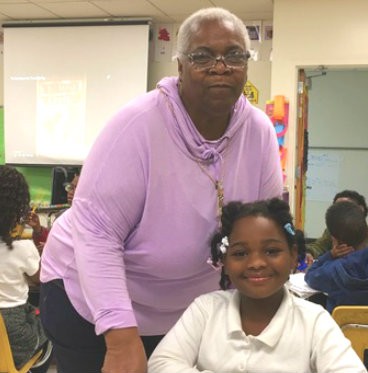 Walking the halls of Umphrey Lee Elementary with volunteer Nell Maston, it's clear she's a VIP at the Oak Cliff school.  She attracts smiles and warm greetings from teachers and students in every hallway. As PTO president, grandparent of two Lee students and an almost daily volunteer, Maston is dedicated to helping students reach their potential. She said the school's welcoming environment and teachers inspired her to get involved as a supporter.
"They are interested in your child and always attentive to the students," she said.
Maston, who was recently recognized as Dallas ISD Volunteer of the Year for School Support, has lived near Lee for decades. Her own children attended Lee and graduated from Carter High School, which serves as the community's feeder pattern high school. In addition to its exciting athletic programs, Carter features a collegiate academy where 288 students are working toward associate degrees.
Maston said she is constantly talking to parents, encouraging them to support the schools as volunteers.
"I always tell (possible volunteers) they are never too old to learn something new," Maston said.
Dallas ISD is spotlighting Maston and other parents who are supporting excellence in the district's southern Dallas schools. With their strong tradition of excellence, dynamic athletic programs, vibrant fine arts and extracurricular activities, southern Dallas schools are preparing students for success after graduation.
If you know an inspiring teacher, student, or volunteer in a southern Dallas school, email thehub@dallasisd.org.