John Pritchett is synonymous with Dallas ISD athletics, as his tenure spans 50-plus years announcing athletic events in the district and 30-plus years as an announcer for the UIL State Track & Field Meet.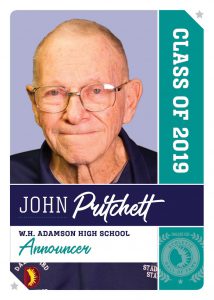 Born in Oklahoma and a graduate of W.H. Adamson High School, Pritchett took advantage of a late growth spurt while enlisted in the U.S. Army and was a three-sport letterwinner for his division team. His interest in broadcasting also took flight during that span as he served as the weekend announcer for the Frankfurt Black Knights' football and basketball teams. Pritchett returned to Dallas and enrolled at SMU once discharged and served as a play-by-play and news announcer for various radio stations in the area.
An avid runner while serving as Dallas Kimball's chairman of the Social Science Department, Pritchett's foray into the world of high school track & field announcing happened by chance in 1964 at the Kimball Relays. When the meet's scheduled announcer didn't show, Pritchett was pulled from the finish line as a timer and called into duty by Kimball coach Cleburne Price and the rest was history.
As time went on, Pritchett's popularity as an announcer spread across the district and eventually the state as he was called upon to announce several high-profile meets in Dallas ISD, surrounding districts and local colleges, in addition to the UIL and TAPPS State Track & Field meets.
Pritchett has remained active over the years in his local community with a wide range of organizations and remains a certified track & field official.