Legendary boys basketball coach J.D Mayo's impact on the game of basketball has spanned nearly five decades in North Texas. During his illustrious career on the hardwood, Mayo made the biggest difference in the lives of Dallas ISD student-athletes as the winningest head coach in district history during a 33-year span at Skyline High School.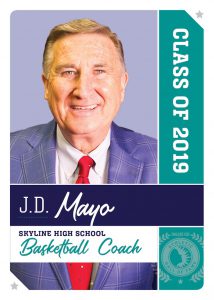 A graduate of East Texas State in Commerce, Texas, Mayo began his storied career at Spruce High School as an assistant coach under John Paul Fultz for five seasons. Mayo was handed the keys to his own program in 1976 at Skyline and made the most of his opportunity as he built the program from the ground up into one of the most successful programs in the state of Texas.
Mayo won 698 games during his 33-year career at Skyline and was named the National High School Basketball Coach of the Year in 2000 by the National High School Athletic Coaches Association in addition to serving as head coach of three all-star games in the state of Texas during his tenure. He was also honored with a pair of Make-a-Difference Awards from Fox Sports Southwest and High School Extra in 2003.
Out of the 100-plus former students who've earned scholarships under Mayo, he's best known for the development of former UNLV and NBA superstar Larry Johnson and current NBA player C.J. Miles, who holds the distinction of being the only player from DISD to ascend directly from high school to the NBA.
A former president of the Texas Association of Basketball Coaches, Mayo retired in 2017 after compiling 808 career wins with additional head coaching stops at Nocona and Joshua High Schools. Mayo, whose name was etched on Skyline's new gymnasium in 2011, has been recognized by a variety for organizations across the state of Texas for his work on and off the court over the years. He will be inducted into the Texas High School Basketball Hall of Fame in May.