Rudy Jaramillo has played a major role behind the scenes in the development and success for some of Major League Baseball's (MLB) biggest stars and Hall of Famers throughout his coaching career.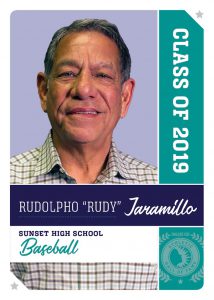 Jaramillo grew up in Oak Cliff and is a graduate of Sunset High School. After graduating from Sunset, he spent two years at Panola College before moving on to the University of Texas prior to the 1973 season. Jaramillo lettered one season at UT and was drafted in the 29th round of the MLB Draft by the Texas Rangers as an outfielder. He spent four seasons in the minor leagues before embarking on a legendary coaching career which was primarily spent in the state of Texas.
Jaramillo started from the ground floor as he worked with little league baseball in Dallas from 1977-82. In his final little league season, he managed the 1982 Sandy Koufax League world champions. He rejoined the Rangers as a minor league manager from 1984-86 before transitioning to a minor league hitting instructor for the next three seasons. Jaramillo made his Major League coaching debut with the Houston Astros as the team's hitting coach in 1990 and spent four years with the Astros during the team's youth movement. While with the Astros, he tutored future Major League Baseball Hall of Famers Jeff Bagwell and Craig Biggio.
In 1994, Jaramillo returned to managing in the minors before returning home to the Metroplex in 1995 as the hitting coach for the Texas Rangers. While with the Rangers, Jaramillo helped rewrite the record books during his tenure as the team was an offensive juggernaut with a total of 17 Silver Slugger Awards, four MVP Awards, three home run titles, two RBI championships, and a batting title. Jaramillo also guided the Rangers to 13-consecutive seasons in which the offense recorded more than 800 runs scored, the longest streak by any major league team since the New York Yankees from 1926-42. Baseball America in 2005, named Jaramillo Major League Coach of the Year. In 2005, the Rangers came within four homers of the all-time team record for a season.
After 15 years with the Rangers, Jaramillo spent four seasons with the Chicago Cubs before his retirement in 2012. For his service to the sport of baseball, he has been inducted into the Texas Baseball, Panola College and Hispanic Heritage Baseball Museum Hall of Fames. In 2007, he was awarded the South Texas Baseball Lifetime Achievement Award given by the Corpus Christi Hooks.
Jaramillo will be among the Dallas ISD Athletic Hall of Fame Class of 2019 inductees celebrated at the induction ceremony on April 26 at the Sheraton Dallas Hotel.