Michael Ensley is the chief architect of the Lincoln High School girls basketball dynasty of the late '90s through the first decade of the new millennium. He led the Lady Tigers to a national championship, three state championships and eight state tournament appearances throughout his 14-year tenure as head coach from 1999-2012.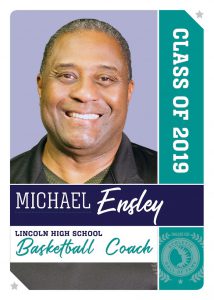 Ensley arrived to Lincoln in 1998 and quickly set the standard future teams would have to live by. He led the Lady Tigers to an undefeated mark of 30-0 in 1999. Ensley's march to his first state championship wasn't easy, as Lincoln defeated a pair of state powers along the way. That team is regarded as one of the all-time best in Texas girl's basketball history.
Over the course of Ensley's career, it was either Austin or bust for the Lady Tigers. The 2001 season began an impressive string of five consecutive appearances ('01-'05) to the state tournament, including four straight seasons ('01-'04) in the finals. Ensley led the Lady Tigers back to the top of the championship podium as they capped off his second state championship with a 30-1 finish in 2004. Four years later, Lincoln reclaimed its throne as Ensley captured his third state title in 2008.
In 2005, Ensley received the opportunity to coach some of the finest basketball talent in the nation as an assistant coach for the USA Basketball Women's Youth Development Festival. He has also had a plethora of student-athletes earn collegiate scholarships, with several having the opportunity to compete professionally in the Olympics, WNBA or overseas.
Ensley has also been named his district's coach of the year 13 times and the Texas Association of Basketball Coaches (TABC) Coach of the Year in 2004. Off the court, Ensley's former students were just as impressive in the classroom; he has coached a total of eight valedictorians and salutatorians throughout his tenure at Lincoln.
Ensley will be among the Dallas ISD Athletic Hall of Fame Class of 2019 inductees celebrated at the induction ceremony on April 26 at the Sheraton Dallas Hotel.