Israel Rivera got a nice surprise on Monday, March 4, when he walked into his school's auditorium.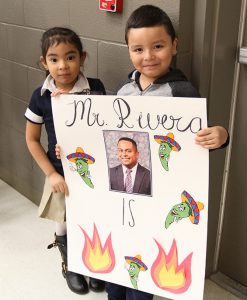 Rivera, the principal of Jose "Joe" May Elementary School, has been named one of five finalists in the HEB Excellence in Education Awards. Representatives from HEB presented a check for $1,000 to Rivera, and another for $2,500 to the school. Students and staff were also waiting for him to return, holding up signs with words of thanks and encouragement.
In May, he will travel to Austin to compete with the other four finalists to vie for the top honors and additional prizes.
Rivera opened May Elementary as its principal in August 2016. He was previously the principal of Harrell Budd Elementary School, and before that served as a teacher at James Bowie and Mount Auburn elementary schools. After graduating from Skyline High School in 1994, he attended UT-Austin and UNT.
Most recently, Rivera was an elementary finalist for 2018-2019 Dallas ISD Principal of the Year.