The Dallas ISD Racial Equity Office (REO) is excited to announce the first Racial Equity Leadership Training Team.
The strategic professional development framework for Dallas ISD Racial Equity Office is a model that includes the following theoretical and philosophical components: Implicit bias / Unconscious bias, Cultural Intelligence, Cultural Competency, Culturally Responsive and Relevant Teaching and Learning. In addition, the REO recognizes the need to deliver content on the historical ramifications of race, which is why Critical Race Theory through the medium of ongoing "Courageous Conversations" will be an overlay of the professional development framework in various context.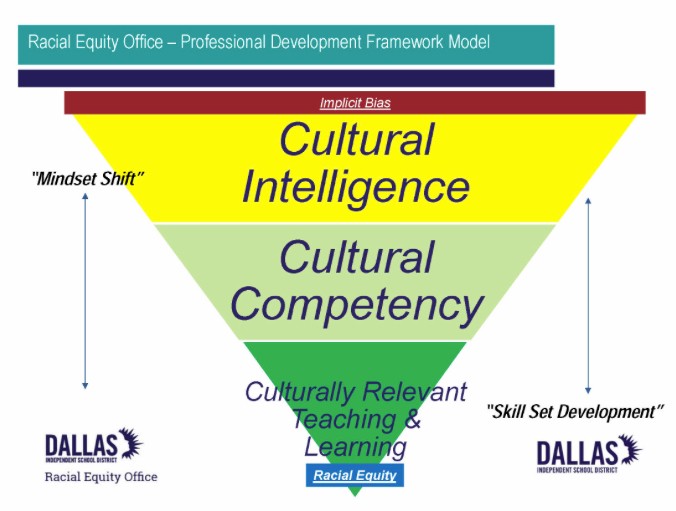 The Racial Equity Office will utilize internal and external thought leaders to create a professional development sustainability model that will support district wide distribution of essential content.
The first Racial Equity Leadership Training cohort includes a multitude of district employees from a wide variety of departments, including, but not limited to, the following departments: Human Capital Management, School Leadership, Teaching and Learning, amongst others. The team recently participated in a two-day training that was conducted by the Cultural Intelligence Center. The Cultural Intelligence Center has trained global organizations, educational institutions such as Harvard University and corporations such as Google, Inc.
Training for Dallas ISD district employees started Fall 2018 and will continue throughout the 2019 spring semester; with ongoing professional development each year.
Eventually, students will also receive educational content designed specifically to enhance student professional growth and development to support their transition into a globalized world full of culture.