Among the many things they share in common, Dwain Simmons, principal at L.G. Pinkston High School, and Damien Stovall, principal at Edward Titche Elementary School, is their commitment to transforming teaching and campus culture in order to provide all students a quality education.
Now, they also share the 2018 Dallas ISD Principal of the Year title. Simmons has been named Secondary Principal of the Year, while Stovall is the Elementary Principal of the Year.
Simmons, principal for seven years, has led the school to achieve first-time accomplishments. In 2018, Pinkston High School earned the highest rating in its history and earned two state distinctions. The school that a decade before had a graduation rate of less than 50 percent now has a graduation rate above 90 percent.
Under his leadership, the school has also established a Health Science & Technology Early College High School.
Simmons was a pre-med/pre-dentistry major in college, but through his fraternity had a chance to mentor students at L.V. Stockard Middle School.
"And the principal there said, 'Wow, you're really great with kids. You ought to think about going into education,'" Simmons said. "And I went into education and didn't look back."
When he was assigned to lead Pinkston, he remembered receiving a phone call that told him not to go, that it would be "career suicide" because of others who had tried and failed there.
"All kids truly deserve a champion," he said. "And well, it's five years later, and I think my career is thriving."
Meanwhile, Stovall raised Titche's academic achievement during his first year at the campus last school year.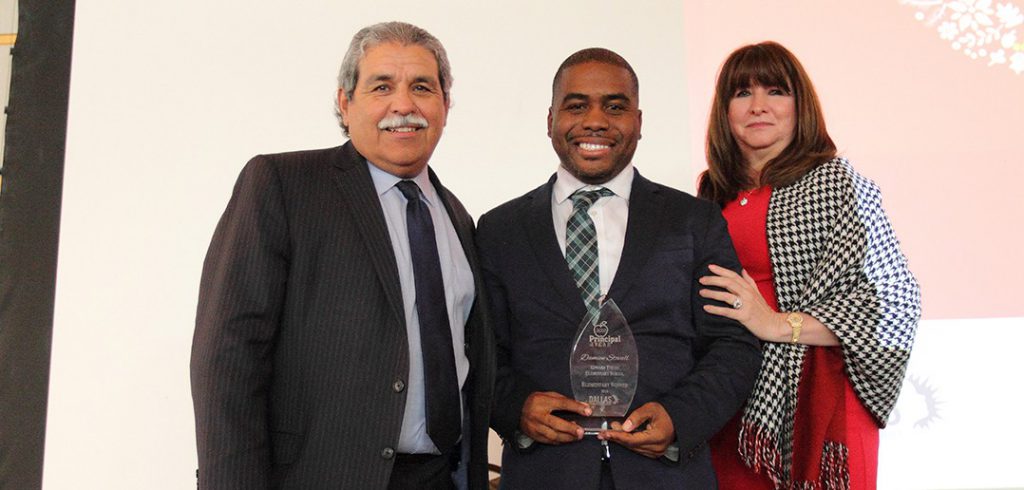 When Stovall arrived to Titche, the school was on the verge of closure due to years of not meeting state standards. Stovall's dedication and leadership took the campus from being an "F" rated school to a "B" campus in one year, as well as obtaining all six state distinctions.
Stovall said he almost didn't apply to be a Principal of the Year. However, what students and teachers had gone through to find success inspired him to try to have their stories be heard.
"Titche is proof that kids will rise to your expectations," he said. "And they will respect you when respect is given to them."
He said anything is possible when there is the vision, goals and plan to get the job done.
"On our worst day, we are the best hope for many of our scholars," he said. "It's hard to talk about me, but I could talk about our kids all day."
The tenacity and dedication of these two campus leaders is what led them to be recognized with the top honor for a school administrator. They were among the eight finalists selected for this year's school Principal of the Year recognition.
Superintendent Michael Hinojosa said the hard work of principals never goes unnoticed.
"You're not only the soldiers, you're also the generals every day in the field trying to improve achievement," Hinojosa said.
Because he himself was never a campus principal, rising from teacher to assistant principal and then into administration positions, Hinojosa said he has put systems into place that ensure principals have a voice. In fact, more than half of his current leadership team has served as principals, which is not something typical.
"I think it helps us make better decisions," Hinojosa said. "Because we understand what your world goes through every day."