You could hear the loud screams and chants—coupled with the drumline's melodic lows— from outside of Dallas ISD's largest campus.
The nation's first magnet school was pure pandemonium when students received the surprise of a lifetime. Actress America Ferrera, best known for her work in Ugly Betty and The Sisterhood of the Traveling Pants, appeared from behind a curtain alongside two of her friends: singer Alicia Keys and social media sensation Liza Koshy.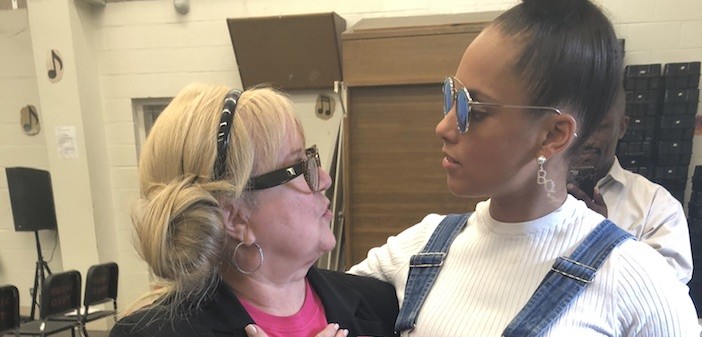 Massive cheers erupted from the crowd of students. For a moment, the excitement from the 1,200 Skyline High School students, teachers, staff and media drowned out the sound system.
"I'm America Ferrera…," said the actress turned activist, as the crowd came to a silence. "But, just like you, I am a fellow American, and I am a brown kid who grew up in this country looking for the best opportunities."
The team of celebrities embarked on a non-partisan Get Out The Vote effort that made several stops in DFW on Oct. 23, including Skyline High School. Various seniors, many of whom will be first-time voters this election, knew of Ferrera's visit, but were taken off guard when she walked out with one of the world's biggest singers.
"We are so honored to share today with you and there's no place in the world I'd rather be than Skyline right now," Keys said. "This is what America looks like—with all of our diversity, all of our flyness, with all the issues that we care about—and we get to choose who represents us."
Liza Kosy echoed what Ferrera and Keys spoke about. As the half-hour rally came to an end, which was in part sponsored by The Student Voter Initiative, a non-partisan statewide student voter registration program, the visit received plenty of buzz on social media.
But, perhaps the greatest moment for students came when Keys bellowed notes of snippets from her songs "Girl on Fire" and "No One".
Keys led the impromptu performance with a simple question.
"You know, I was thinking…if we have each other, we can do anything, right?" she asked. "So, I was thinking, 'You and me together through the days and nights, I don't worry 'cause, everything's going to be alright…'"