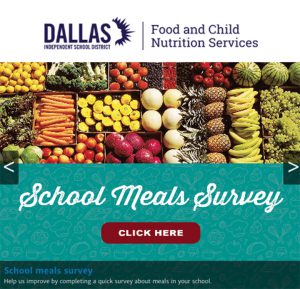 During the course of a school year, Dallas ISD's Food and Child Nutrition Services (FCNS) serves an estimated 40 million meals to district students.
Now, the department is asking students and parents to feed them opinions about those meals. Responses will help shape next year's school menus.
The annual School Meal Survey can be taken in English or Spanish here.
FCNS meals and services are an important part of Dallas ISD's Coordinated School Health initiative that aims to promote overall wellness of families in and out of school. All district schools offer free breakfast – most make breakfast available in the classrooms – lunch and select campuses also serve dinner as part of after-school programs.
Other initiatives include Harvest of the Month highlights healthy food grown in Texas, with meals featuring a specific item and encouraging students to try something new. Also, when school is out for summer and longer holiday breaks, the department offers meals to children ages 18 and younger at select sites in the city.