When South Oak Cliff High School relocated temporarily to the Village Fair campus a few miles away, a special part of the school's history was left behind.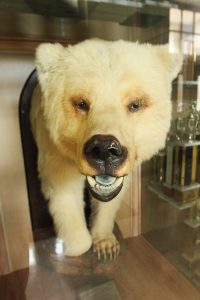 The Golden Bear won't make the move, nor will he witness renovations at the school. To protect the old guy from potential damage during construction, he will be removed from his glass enclosure, boxed up and relocated to a secure location in the near future.
South Oak Cliff High School first opened in 1952. The Golden Bear was dedicated to the school two years later by Roland Pelt, a builder and developer in Oak Cliff. His nephew Jerry Shelby, a 1962 graduate of SOC, relates the story of the bear on the SOC62.com alumni website.
According to Shelby, Pelt shot the bear in Kodiak, Alaska. He donated the front half to the school to display as the mascot. He kept the back half and used the fur to make a rug for his home office. The Golden Bear was positioned on his front two paws to look like he was walking out of his den.
His glass case was incorporated into a large trophy case that protected him somewhat from the elements, although time has taken its toll.
"Though he has faded somewhat from his original golden color, he is indeed the same bear," Shelby says on the website. "In fact, so much fading, that I had a lively discussion with a teacher a couple of years ago when we visited the school. She tried to tell me that it was a polar bear."