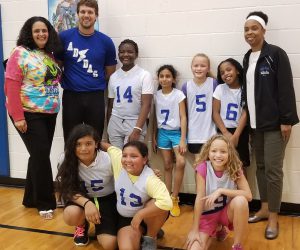 Anne Frank Elementary School's girls basketball team posted a near-perfect record at 7-1 and earned the title of Area Champions even though the nine girls started the season as beginners.
Fans took notice, as the team's home games were standing-room only.
Starting fifth-grader Alexa Rodriguez is a Gifted and Talented student who sacrifices her fall time in the GT Leadership Team to devote herself to the basketball team's success.
"I loved watching Alexa grow as a player," said coach Carla Ford. "She really listened to instructions and applied the steps to improve herself and became better. It was exciting to watch her grow as a player due to her focus and hard work."
Ford, a teacher assistant at Frank, is a former college basketball forward from 1993-95 at Texas A&M, attributes the success of the team to their drive and hard work. The team (along with a boys' team) practiced after school twice a week when they were not playing games. Players are also required to meet high academic and behavior standards to remain on the team.
She coaches the team along with second-grade teacher Viviane Johnson and PE teacher John Hoover.
Johnson first led a Basketball Club after-school program at Frank in 2015. The program evolved into the first two competitive teams that formed this year, a boys' team and a girls' team. "I am so proud of our athletes and program in its third year," Johnson said.
Coach Hoover requires physical fitness from all of his players, including running drills on top of regular basketball practice.
Fifth-grader Sherlin Bravo said she went out for the team because her dad made her do it, but she has no regrets. "I love it because it is exercise and we have fun," Bravo said. The three coaches also guide the boys, who are also passionate and competitive about the game.
Ford is a typical competitive athlete, a woman of few smiles and few words. She reserves her statements for thoughtful replies. She is serious about the team and their well-deserved accolades on the horizon. But when asked about their 7-1 record, she simply grinned from ear to ear.