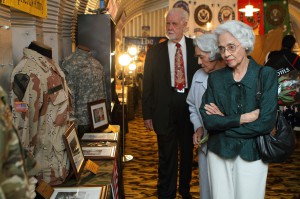 The Marsh Military Museum will honor Veterans Day by being open to the public starting at 8 a.m. Friday, Nov. 10. A rededication ceremony at 5:30 p.m. will mark the fifth anniversary of the museum, believed to be the first such facility at a public middle school.
The museum is located at T.C. Marsh Preparatory Academy at 3838 Crown Shore Drive. It features donated items by community members and includes memorabilia as far back as World War I. Guided tours are conducted by members of the award-winning Marsh Leadership Cadet Corp (LCC).
First dedicated on May 8, 2012, the Marsh Military Museum continues to be a source of pride for the LCC, the school and the community.