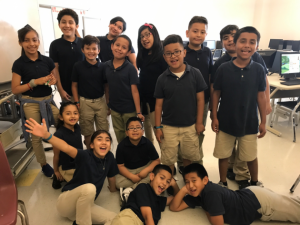 Two chess clubs at Dallas ISD elementary schools are having winning ways under the direction of coach Yolanda Peña at Louise Wolff Kahn and Arcadia Park.
In April, both clubs competed in the UIL chess puzzle competition. The Kahn fifth-graders took first and second place, and fourth-graders placed third and fourth. Third-graders, who were new to chess club last year, placed first, second and third. Arcadia Park's fifth-graders placed fourth and second.
A chess puzzle requires players to know the chess pieces and rules to solve chess-related problems, often finding the very best move or series of moves as a solution.
Peña credits much of the teams' improvement to a web-based teaching tool called ChessKid, which helps children of all skill levels learn more about the game. She wrote an article about her teams' successes that is featured on ChessKid's site. This year, the program is available for use by all district students.
Last year, the Kahn team won a districtwide chess puzzle competition sponsored by ChessKid, while Arcadia Park took third.
This year's chess season begins with an invitational tournament on Oct. 7 at Bilhartz Elementary School in Duncanville. District scholastic chess tournaments are slated for Oct. 28 (grades 3-5) and Nov. 4 (grades 6-8). UIL contests are Dec. 2 (elementary school) and Dec. 9 (middle school), both at Emmett J. Conrad High School. The Dallas ISD Districtwide Tournament for all grade levels is set for May 5 at Conrad.