Efforts across Dallas ISD are under way to supply hurricane survivors with much-needed supplies and support as some of them make their way to the city.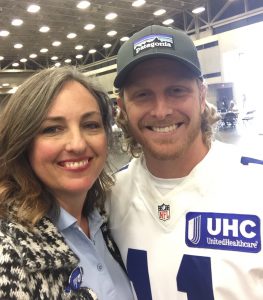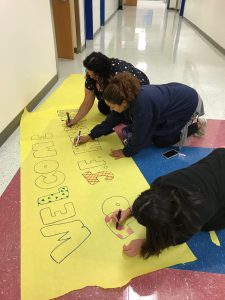 Three schools have been designated to welcome any Houston-area students who stay at the city's mega shelter at the Kay Bailey Hutchison Convention Center. They are John F. Kennedy Learning Center, Alex W. Spence Middle School and North Dallas High School. Other schools across the district are collecting donated supplies and are ready to embrace individual students who have sought shelter in their neighborhoods.
At Spence, eighth-graders brought in donations and are ready to welcome new students to the school. They wrote personal notes and attached them to the backpacks that will be distributed to students.
A representative from the Red Cross picked up donations on Sept. 1 from Robert T. Hill Middle School. Josh Ault's seventh-grade social studies class collected toiletries and filled several donation boxes.
Dallas ISD employees have been volunteering at the shelter inside the convention center. Pictured above is employee Malia Nix with Dallas Cowboys wide receive Cole Beasley, who was among players who stopped by to thank workers on Thursday.
We will add to this photo gallery as we find or receive additional images. Send them to thehub@dallasisd.org or post to social media and tag @dallasschools (Twitter) or @DallasISD (Facebook and Instagram).
Related stories:
• Dallas ISD accepts items for students displaced by Hurricane Harvey
• Dallas ISD committed to serving any students impacted by Hurricane Harvey