Angela Morris Watts has always known that a library is a special place, from the time she was a student in elementary school.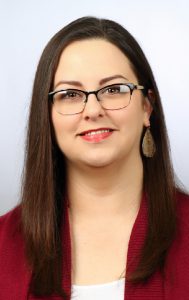 "As I got older, I still loved reading, but I also started to enjoy finding answers to questions I had," Watts said. "When I became a reading teacher, I loved taking my students to the library and helping them find books to read, and I loved doing research projects with them. My librarian at the time thought I would enjoy being a school librarian, and she was right!"
For the past seven years, she has served as the librarian at Thomas Tolbert Elementary School. She was recently named Dallas ISD's 2017-2018 Librarian of the Year.
Her favorite part of the job is connecting students and teachers with books they love.
"I help students find great books to read that will keep them reading and grow their reading and thinking skills," she said. "I help them find and evaluate information they need to complete assignments or to satisfy their personal curiosity. I help teachers find resources to enhance their lessons.  There are so many things we as librarians do to help educate students that it's difficult to list them all."
Watts said that research suggests that the best way to grow more proficient readers is for the person to find and read books themselves that they find interesting, and a school library's collection is sure to have several books for everyone.
"Having a qualified librarian and well-stocked library on an elementary campus keeps students from falling behind on their reading skills and helps to create a life-long reader and learner," she said. "Also, having the library at the school enables student of every economic level to have access to the reading materials they need and want."
For anyone looking to find information or ways to teach a difficult skill, Watts said the school librarian can often be the go-to person to help.
Gay D. Patrick, director of Dallas ISD Library/Media Services, said Watts has achieved many accomplishments during her time at Tolbert.
Most notable may be working to have Tolbert chosen as the first site in Dallas to host Reading Rock Stars, an author visit and book donation program conducted through the Texas Book Festival. In May, three nationally known children's authors – including former First Lady Laura Bush – visited Tolbert as part of the program.
"Angela Watts is an excellent example of what librarians do every day in the support of their students, teachers, and school campuses and the many hats they wear," Patrick said.
Watts earned a Bachelor of Science degree in Secondary Education from Southwestern Assemblies of God University, a Masters of Library Science from UNT and a Masters of Education from Southwestern Assemblies of God University.
"Working as a librarian for Dallas ISD has been an incredible experience," Watts said. "It's amazing to be able to work so closely with and learn from some of the best librarians in the state."