A student at Dallas ISD's School of Science and Engineering (SEM) is offering a free three-day computer science workshop for girls in grades 6-8.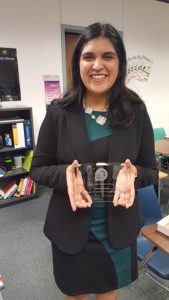 Saumya Rawat's "IT Empowerment for Her" workshop is designed to introduce middle school girls from historically underrepresented areas to the profession. Participants will learn how to use MIT App Inventor, meet student and professional mentors and learn about STEM careers.
The program is scheduled for 10 a.m.-3 p.m. July 25-27 at the University of Texas at Dallas and would like to draw at least 40 participants.
The workshop is Rawat's "passion project," a requirement for seniors at SEM to develop before they graduate.
She recently won a Technology Stars of the Future award from the National Center for Women & Informational Technology and is using resources from that organization and also with UTD to conduct the workshop.
Find information and register here.