Albert S. Johnston Elementary School Nurse Angelique Sanders is the Dallas ISD 2016–2017 Health Services Employee of the Year!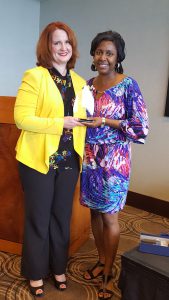 Sanders said her favorite part of the job is teaching the students how to take care of themselves and, sometimes, their family members.
Sanders secured two DonorsChoose grants that allowed her to purchase material to teach students about healthy eating, as well as to buy basic hygiene products for students and their families. Sanders also worked to make sure all asthmatic students have a spacer through the Children's Health Program.
In addition to working as a school nurse, Sanders is the school editor and one of the writers for the campus newsletter; bookroom assistant; chairperson of the Awards Day Committee; co-chairperson for the Safety Committee; a Career Day assistant, and much more.
"I am overjoyed to receive this honor as the Health Services Employee of the Year," Sanders said. "It's a blessing to be able to work with the students and help improve their lives."