The Dallas Independent School District celebrated School Nutrition Employee Week by honoring five exemplary schools with the annual Heart of Child Nutrition Award.
These five schools were recognized for going above and beyond to provide exceptional food and a positive experience to students. Each day last week a director from Food & Child Nutrition Services (FCNS) visited an awarded school to present the certificate and prizes, and put on a hairnet to serve lunch on the cafeteria line.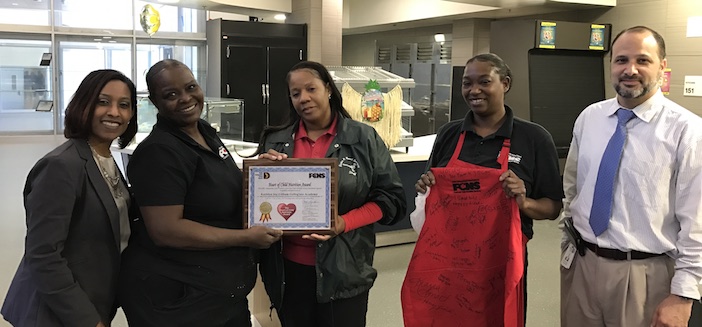 The five winning schools are: Gilliam Collegiate Academy, Anne Frank Elementary School, T.W. Browne Middle School, H.B. Gonzalez Elementary School, and Franklin D. Roosevelt High School. FCNS received over 600 submissions from students, parents, and faculty across the district recommending their favorite employee or team for the award.
"I am so proud of our 'Heart of Child Nutrition' award winners!" said Michael Rosenberger, Executive Director of Dallas ISD Food and Child Nutrition Services. "The dedicated women and men that work in these high-achieving school kitchens embody the values of our department and district, and serve as a vital reminder that cooking is indeed an act of love and caring. We in FCNS strive not just to 'feed the bellies' of our students, but also to feed the hearts of our students through amazing and caring service. The 'Heart of Child Nutrition' award winners serve as an inspiration to us all. "
"The cafeteria staff at Gilliam Collegiate Academy are simply the best," principal Lakeiah Cheatham added. "They work together as a team and are very flexible, everything they do is in the best interest of our students."
Ninety-eight percent of students in Dallas ISD qualify for free or reduced meals. The dedicated men and women on the cafeteria lines understand the impact nutritious meals can have on these students and in their schools, and none more than this year's award winners.
"I love to serve, what better way to serve the community than to serve the kids," said T.W. Browne supervisor Yolanda Fisher. "I know that for some students this is the only hot meal that they will get for the day, I want to make sure that it is the very best meal they will have."
For H.B. Gonzalez, this was the second consecutive year to be recognized for their hard work. Cafeteria supervisor Patricia Smith attributes her team's continued success to the constant support, encouragement and common goal that her team members share.
"I love my team, together we can accomplish anything," Smith said. "Without a solid foundation, you have nothing to build up to and nothing to hold it all together."