On Tuesday, April 18, the Career Education and Workforce Partnerships Department hosted the Dallas ISD NAF Senior Recognition Ceremony. The ceremony honored seniors who have completed a program of study in a NAF academy and demonstrated academic excellence in Dallas ISD's Career and Technical Education programs. The event recognized more than 400 students representing high schools across the district.
The Dallas ISD NAF program supports students in their pursuit towards college or career. The program provides students and their families with resources and opportunities that promote academic, social, and postsecondary success following graduation.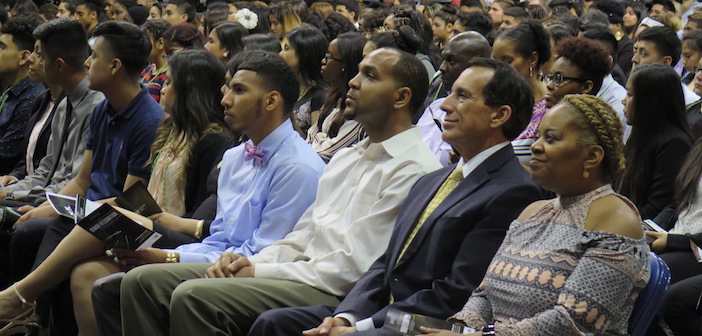 Tiffany Cason, Dallas market president for Capital One, served as the event keynote speaker. She encouraged the students to put in the extra work, make connections, dream big and take chances.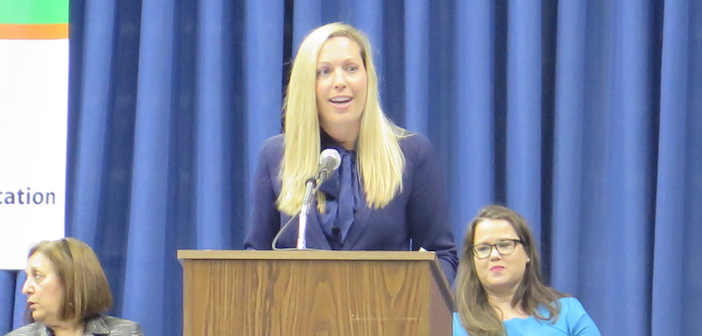 Small learning communities
NAF academies are designed as small learning communities within larger schools or as stand-alone public high schools. NAF currently has academies in 36 states including DC and the US Virgin Islands. Academies in the NAF Network are formed around one of five career industries with strong employment opportunities and growth. In addition to core academic courses, students take industry-specific classes related to these themes as well as participate in work-based learning activities to put their lessons into action.
NAF academies are themed. The themes are:
– Academies of Engineering
– Academies of Finance
– Academies of Health Sciences
– Academies of Hospitality and Tourism
– Academies of Information Technology
Almost 7,000 Dallas ISD students are served through NAF programs.
Dallas ISD NAF Academies include:
Bryan Adams: Academy of Engineering
Bryan Adams: Academy of Health Sciences
W.H. Adamson: Academy of Finance
W.H. Adamson: Academy of Health Sciences
David W. Carter: Academy of Information Technology
Emmett J. Conrad: Academy of Engineering
Emmett J. Conrad: Academy of Finance
Emmett J. Conrad: Academy of Health Sciences
Emmett J. Conrad: Academy of Hospitality and Tourism
Emmett J. Conrad: Academy of Information Technology
Hillcrest: Academy of Engineering
Innovation, Design, Entrepreneurship Academy (IDEA): Academy of Finance
Thomas Jefferson: Academy of Engineering
Thomas Jefferson: Academy of Finance
Thomas Jefferson: Academy of Hospitality and Tourism
Justin F. Kimball: Academy of Engineering
Justin F. Kimball: Academy of Hospitality and Tourism
Lincoln High School: Academy of Engineering
James Madison: Academy of Information Technology
North Dallas: Academy of Engineering
North Dallas: Academy of Finance
North Dallas: Academy of Information Technology
Franklin D. Roosevelt: Academy of Health Sciences
School of Science And Engineering at Yvonne A. Ewell Townview Center: Academy of Engineering
Skyline: Academy of Engineering
Skyline: Academy of Finance
Skyline: Academy of Health Sciences
Skyline: Academy of Hospitality and Tourism
Skyline: Academy of Information Technology
South Oak Cliff: Academy of Information Technology
South Oak Cliff: Academy of Engineering
H. Grady Spruce: Academy of Engineering
H. Grady Spruce: Academy of Finance
H. Grady Spruce: Academy of Information Technology
Sunset: Academy of Finance
Sunset: Academy of Health Sciences
W.T. White: Academy Of Engineering
Wilmer-Hutchins: Academy of Hospitality and Tourism
Wilmer-Hutchins: Academy of Information Technology
Woodrow Wilson: Academy of Engineering
Woodrow Wilson: Academy of Finance
Woodrow Wilson: Academy of Hospitality and Tourism