Madison High School seniors Desmond Scott, JeMichael Bowens, and Patrick Terry have played basketball together for years, logging so much time as teammates that each player usually knows in advance what their friends will do on the court.
The practice and camaraderie paid off: Madison won the UIL 3A State Basketball tournament in San Antonio earlier this month. The players were freshman on the basketball team when Madison last won state in 2013.
Terry and Bowens have been close friends and played basketball together since second-grade, and Scott has played with them since junior high.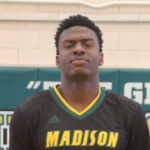 "We've pushed each other and worked hard, and it's really worked out for the best," Terry said.
"We came in together, put in the work, had the vision, and now get to go out as state champions," Scott added.
Madison Head Basketball Coach Damon Barnett said it's an honor to build on the school's strong tradition of high-caliber basketball.