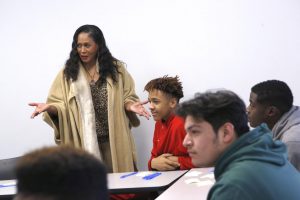 Delores White teaches a hospitality class for juniors at Dallas ISD's Justin F. Kimball High School, and also runs the school's four-year Academy of Hospitality and Tourism.
"We've been here for 10 years," she said. "But we didn't actually start thriving until, let's say, four years ago."
Under her direction, the program has earned "distinguished" status from the National Academy Foundation. She says this program helped restore pride in Kimball. That's after the state ranked the school academically unacceptable for five out of six years.
"We were academically underperforming," she said. "Because of this academy, we raised the bar."
The students are getting another boost, with several being fitted for suits that will help set them apart during interviews for internships and jobs.
Read the full story from KERA here.