Representing District 8, Miguel Solis became the youngest board member ever elected to the Dallas ISD Board of Trustees on November 5, 2013 through special election. Soon after, he was re-elected to serve a three-year term.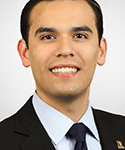 On June 26, 2014, Solis was selected by his fellow Trustees as the Board President, making him the youngest ever to serve in the position. In 2015, he was elected by his colleagues to serve as 1st Vice President.
Solis' professional experiences include serving as a staff member on President Barack Obama's 2008 presidential campaign, an eighth grade U.S. history teacher, and a central staff member in Dallas ISD. He currently serves as the Executive Director of the Dallas-based Latino Center for Leadership Development. Solis has been appointed to the Citywide Poverty Task Force and Joint Committee on Education by Dallas Mayor Michael S. Rawlings and was recently chosen for the Aspen Institute's Rodel Fellowship as one of the nation's promising young political leaders.
Solis is a native Texan, raised by his mother, a school bookkeeper, and late father, a public school teacher and small business owner. He received his B.A. in history with a minor in political science from Lamar University and received his M. Ed. in education policy and management from Harvard University.
January is School Board Recognition Month, a time to thank local leaders for their dedication and willingness to serve as advocates for children and public schools.