Trustee Lew Blackburn makes an all-star difference in District 5.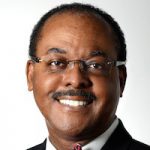 Elected to the board in June of 2001, Blackburn leads his district of Oak Lawn, West Dallas, Wilmer, Hutchins and portions of East Oak Cliff.
Blackburn was born in Fort Worth, where he attended elementary school. After moving to Dallas, he attended Oliver Wendell Holmes Middle School and graduated from Franklin D. Roosevelt High School. He earned a Bachelor's degree in Music Education and a Master's in Educational Administration from Texas A&M University-Commerce, and a Doctor of Philosophy from The University of Texas at Austin.
A career educator, Dr. Blackburn joined Dallas ISD in 1986 as an instrumental music teacher before serving as an assistant principal in the West Dallas area. Following a career move to the Texas Education Agency, he served as a principal in Goodrich, Texas and Duncanville, Texas. He also has served as an adjunct professor of educational administration at various colleges and universities in the North Texas area.