Dallas ISD opened the first Ben Carson Reading Room at John Quincy Adams Elementary School, through the generosity of Domtar and Carson Scholars Fund. The grand opening ceremony was held on Friday, Sept. 23 at the campus with a number of special guests in attendance to help launch the literacy room.
"John Quincy Adams Elementary is honored to be an extension of the Carson Scholars Fund's THINK BIG philosophy," said Yoshi Totsuka, principal at John Quincy Adams. "The Dr. Ben Carson Reading Room has provided our scholars a unique opportunity to further develop their life-long love of reading."
"We appreciate the time and support that Domtar and its vendors have provided in order to ensure our scholars are excited about reading," said Totsuka.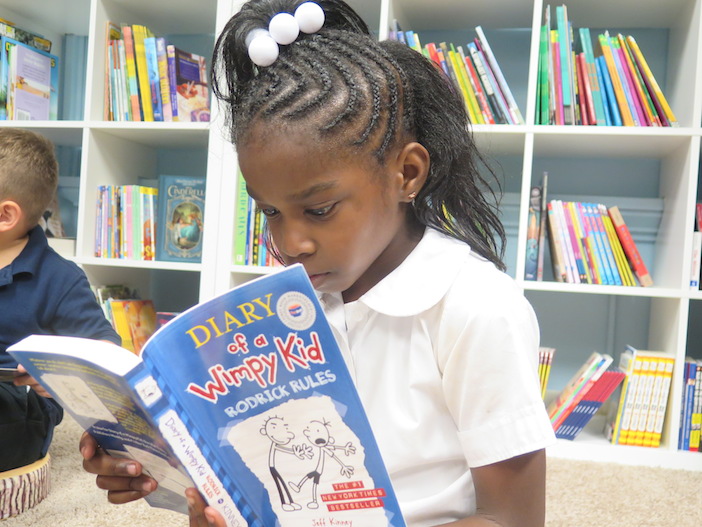 The Ben Carson Reading Project is an initiative of the Carson Scholars Fund and was founded by retired, world-renowned pediatric neurosurgeon, Dr. Ben Carson and his wife, Candy. The purpose of the Reading Project is to create a literacy-enriched environment for children to develop their reading skills. The goal is dedicated to promoting reading as a key to unlocking a child's full potential.
Domtar and its vendors pride themselves on giving back to the communities in which they serve. Domtar first partnered with the Carson Scholars Fund in 2012 to open a reading room in Johnsonburg, PA.
"The Domtar Irving Converting Site is very proud to be a sponsor of, and to have helped with this project, to transform an existing space into the new Ben Carson Reading Room at John Q. Adams Elementary School," said Kim Evetts, plant manager at Domtar's Irving Converting Center.
"When a child opens a book, they open up a world of possibilities," said Evetts. "We encourage all the students at John Q. Adams Elementary to 'THINK BIG,' and take advantage of the opportunity to continue to develop the skills necessary to become lifetime readers and learners."
The Ben Carson Reading Room at Adams Elementary School is the last of ten new reading rooms to open through the Domtar partnership, and is the 160th room opened by the Carson Scholars Fund.
Currently, more than 150 Ben Carson Reading Rooms have been established and are serving students in 21 states and Washington, D.C. To learn more about the Carson Scholars Fund visit www.carsonscholars.org.