Dallas ISD this week hosted Lt. Gov. Dan Patrick's State of Texas P-TECH Advisory Council during a conference at Seagoville High School. The workshops featured discussions on design, planning, implementation and partnership development for this initiative. The group selected by Lt. Governor Patrick is the first of its kind in Texas.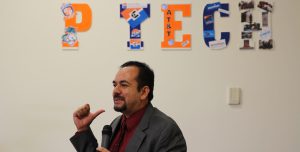 Israel Cordero, deputy of School Leadership for Dallas ISD, welcomed nearly 50 participants and served as a panelist. Seagoville High School Principal Angela West also sat on various panel discussions during the conference and provided updates on opening the first P-TECH campus in the state.
The second half of the workshop included a working lunch led by the Greater Houston Partnership, an open forum with the Texas State Technical College Partnership, and a panel discussion from the P-TECH Team.
The council meeting concluded with a wrap-up on next steps in P-TECH presented by Cordero; Usamah Rodgers, executive director of Early College Programs for Dallas ISD; Robin Painovich, executive director for Career & Technical Association of Texas; and Marian Wallace, education policy advisor for the Office of the Lt. Governor.
The lieutenant governor first announced the classroom-to-career initiative known as the Pathways in Technology Early College High School (P-TECH) model this past February. The state advisory council is composed of K-12, higher education and industry leaders. The purpose of the advisory council is to identify specific goals and metrics for a P-TECH school in Texas and promote education and business partnerships across the state.
Three students from the Seagoville P-TECH program were selected to participate in the council meeting.
Students enrolled in this type of program are offered a new approach to learning by bringing together the best elements of high school, college, and career. Upon graduation they receive an industry-recognized associate degree along with the skills to succeed in high-growth industries.