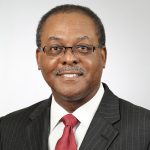 On behalf of the Dallas ISD Board of Trustees, welcome back to another school year. Last school year, we had many great accomplishments in the district. Along with my fellow trustees, I am proud of our students and staff.
After a long hot summer, school is beginning again. The daily temperature has been around 100, the same number we want our students to score academically. They can do it!
Now that school is beginning, what will it take for Dallas ISD students to do even better than the last school year? What will your organization do to help the neighborhood school? What will you do to help students at the nearby school?
Share your ideas for making 2016-17 one of the best school years ever for Dallas ISD. Call Dallas ISD to let us know which school you want to help by volunteering, mentoring or tutoring. The number is 972-925-3700. Students are depending on you. Teachers and other campus staff need your support.
Have a happy new school year as we move towards even greater success.
Lew Blackburn, Ph.D.
President, Board of Trustees