As students prepare to return to class on Monday, Aug. 22, Dallas ISD cafeterias will be hard at work to create recipes for success when it comes to school meals.
"We are looking forward to welcoming students back to school to savor new and favorite flavors at breakfast, lunch and supper this year," said Margaret Lopez, Executive Director of Dallas ISD's Food and Child Nutrition Services.
Once again, all students receive full meals at no charge under the Community Eligibility Provision. And those meals begin with Breakfast in the Classroom. Food Services personnel deliver meals to elementary and middle classrooms, and high school students can make selections from grab-and-go kiosks.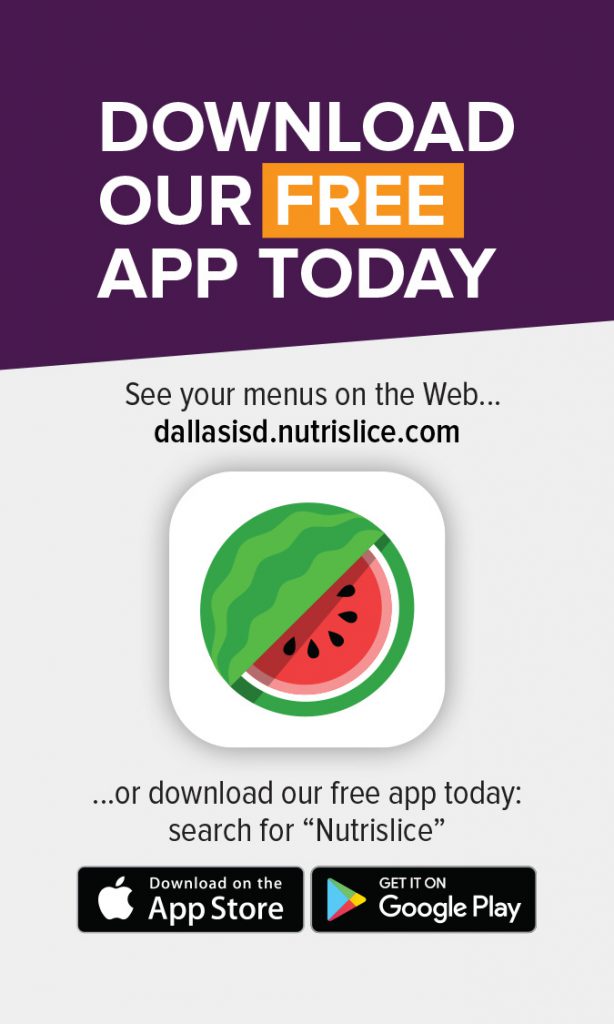 Seeing what's on the menu will be easier this year, as Dallas ISD is using the NutriSlice app (free download from the Apple App Store or Google Play). Users may find lunch menus, see photos of items and learn nutrition and allergen information. Plus, students may rate and provide feedback on the menu through the app.
Among new lunch items available this year, some that were student favorites at the district's Spring Food Festival:
Strawberry Fields Rotini Salad at high schools
BBQ Pork Sandwich at all grade levels, requested by students
Spicy or Orange Asian Chicken Bowl at middle and high schools
Teriyaki or Orange Chicken Bowl at elementary schools
Buffalo Chicken Wrap, developed by Bryan Adams High School culinary students and offered for a limited time this year
And there are a few other changes at Dallas ISD schools.
"Smoothies are sure to be a big hit for high school breakfast this year," Lopez said. "Many middle school students will find a new cafeteria environment the first day of school, and changes will be coming soon to other middle schools."
The district is also once again focusing on fresh, locally grown fruits and vegetables. Harvest of the Month focuses on a Texas-grown item each month, such as watermelon in August and sweet corn in September. For several weeks during the school year, a produce item will be highlighted for Farm Fresh Friday.
Student input is crucial to improving Dallas ISD's food offerings. Besides being able to rate items with the NutriSlice app, Food Services will conduct four Menu Advisory Committee meetings this year to showcase new offerings and initiatives and receive feedback. This year's meetings are set for 4:30-6 p.m. on Sept. 28, Nov. 16, Jan. 25 and April 5 at the Maria Luna Food Services Facility, 1515 Al Lipscomb Way. Students and parents are encouraged to attend, but space is limited. RSVP to yvlopez@dallasisd.org, or call 214-932-5506.