The Entertainment Software Association (ESA), Senator Royce West, and Dallas ISD Board Trustee Joyce Foreman celebrated this week with Dallas' first graduates of the ESA Digital Living Project, a program which teaches Science, Technology, Engineering and Mathematics (STEM) skills to middle school students.
The program, which is developed by EverFi, Inc., started in 2012.
"It is a thrill to see so many students graduating from this important program at D.A. Hulcy STEAM Middle School," said Senator West. "Technology and STEM skills are extremely valuable as students graduate and enter the workforce. I am grateful to ESA for underwriting the cost of the curriculum and to Trustee Foreman for her leadership in supporting the school and community."
Local political and education leaders shared remarks and answered questions through an interactive panel with more than 150 students about the importance of digital citizenship and STEM skills. Speakers included Senator Royce West, Dallas ISD Board Trustee Joyce Foreman, and Tom Foulkes, vice president of state government affairs at the ESA.
"The goal of the ESA Digital Living Project is to equip students with the digital and STEM skills they need to be successful in life," said Tom Foulkes, vice president at ESA, the trade association representing the U.S. video game industry. "We are excited to bring the program to Dallas to build off the success we have seen in Los Angeles, New York, and Austin. Students in Dallas and across the country need more exposure to these critical topics that will impact students' futures and career opportunities, and we are honored to lend our support through this initiative."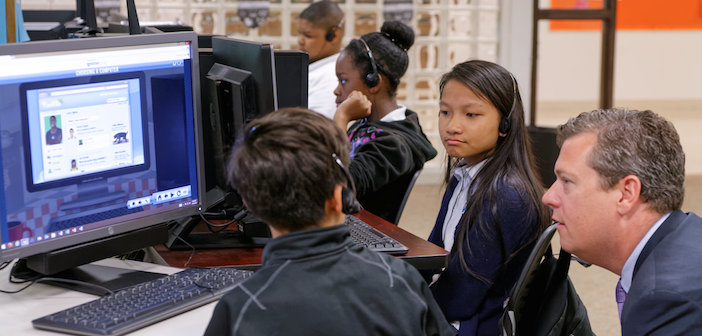 The event started with a student assembly with a speaking program and interactive panel for students to ask questions about digital citizenship and STEM topics. All 150 students also received a certificate for completing the rigorous program. Following the assembly, the speakers and special guests observed students working through the online program in the school's computer lab.
National statistics around STEM and digital literacy have created urgency to provide these educational opportunities to students in Dallas and across the country. One in five teens report having been cyberbullied by someone online or by text message, and of the nearly 3.8 million ninth graders in the country, only 6 percent are expected to choose a STEM-focused degree in college. Through the expanded ESA Digital Living Project, ESA aims to encourage students to embrace STEM and technology education opportunities, leverage technology in a safe and effective manner, and create active pathways for career success in STEM and other fields.
EverFi is a districtwide partnership and services are available free-of-charge to all schools in the district. To learn more, contact Jane Didear with Dallas ISD Volunteer and Partnership Services at jdidear@dallasisd.org or 972-925-3918.