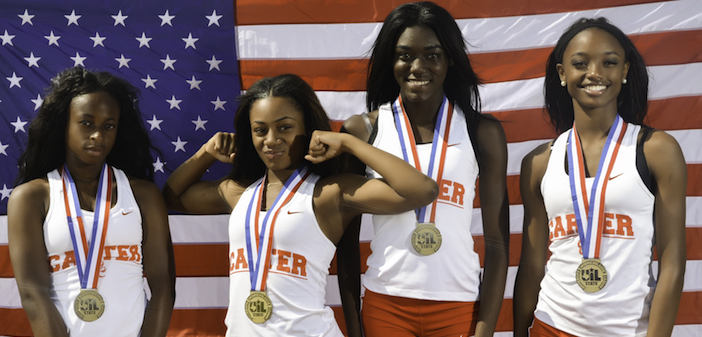 David W. Carter sophomore Sha'Carri Richardson recently won the 2016 Class 4A girls' state title in the 100-meter race finishing in 11.58 seconds. Richardson's 100-meter time was the fastest in all classifications this year.
Having also placed second in the state 200-meter race at the UIL state championship meet, Richardson said winning "felt amazing."
"At first, I was solely focused on beating my own time from my previous meets, so when I found out I beat all the times from all the classes, I was shocked," she said.
Richardson's inspiration to running came when she was visited her grandmother and noticed several medals on display in a trophy case. The future star learned those medals belonged to her aunt, Shayaria, a former track standout at James Madison High School. It was in that moment, Richardson was inspired to blaze her own trail as a track athlete.
Richardson took off in third grade, participating in amateur track clubs with other kids around the city. As she continued to progress, coaches and trainers took notice of her times, that not only was she fast but also consistent.
The summer after eighth-grade, Richardson was injured while competing. Despite the hurdle, she committed to working even harder to coming back stronger in order to compete with her high school teammates.
"In 8th grade, I realized I had the talent to compete," said Richardson. "People started taking notice of my times. So, as I approached high school, I wasn't going to let my injury set me back. It just prompted me to work harder to get back to where I needed to be for the upcoming ninth grade season."
Though attending Kathlyn Joy Gilliam Collegiate Academy, Richardson committed to working out and training as a student-athlete at David W. Carter High School, possible due to the fact that Gilliam is a magnet which means students interested in participating in sports can do so at their home campus.
Carter's Track and Field coach Lauren Cross welcomed Richardson and her teammates back to school in 2014 with an invitation to run cross country as a pre-requisite to join the school's track team.
Cross who competed at Houston's Aldine HS as a member of their state meet in mile relay and then later at Grambling State University as a top competitor in the Southwest Athletic Conference, said her athletes' willingness was a key indicator of their eventual success.
In addition to Richardson's recent state finish, Cross' relay team claimed the state 4×100 title clocking a Class 4A state record of 46.23 seconds.
"I am extremely proud of these girls," said Cross who is even more excited that all but one of the members of her relay team will return next year.
Cross will return Richardson, juniors Deziree Porter and Zhalyn Richardson but will look to others girls in her program to fill the void left by senior Kynna Gamble who will go on to compete at Houston Baptist University next year.
"Setting a new record, especially for new people coming in, sets the bar extremely high," said Cross considering her track program. "It's hard getting to the top, but even harder staying on top. Beating their own record, is our goal for next year."
Though Richardson is enjoying the fruits of her labor for now, she plans to waste no time getting back to the grind of training. Her plans this summer? USA and AAU Track and Field training and competition.
Her goal?
"One of the main things I want to do is beat my own record next year," said Richardson. "But like any track athlete, the ultimate goal is the Olympics."
At the recent University Interscholastic League State Track and Field Championship Meet held at Texas A&M University at Commerce, district student-athletes competed in a total of 10 events, winning a total of 22 medals including 10 gold medals, three silver medals, and nine bronze medals.
Carter's Demarviae Gray won the boys' 4A 200 meter state title and Wilmer Hutchins won the boys' 4×100 competition. Additionally, both Carter's girls and boys track & field teams were named Region II – 4A Champions.