Melisa Simon is on track to make history for Dallas ISD in more than one way.
For starters, Simon is one of the 27 seniors graduating with an Associate's Degree in the inaugural class of Samuell Early College High School (ECHS). Additionally, this fall she will attend TechTeach, which is Texas Tech University's teacher education program that prepares students to return to work as a teacher in Dallas ISD.
If all goes according to plan, Simon will become the first 19-year-old holding a bachelor's degree, teacher's certification, and Dallas ISD teaching job.
"I'm excited to show everyone that this is possible," Simon said. "I'm honored and humbled by this opportunity."
Simon knows Texas Tech won't be easy, but she is up for the challenge. After all, she successfully managed to balance getting her Associate's Degree as an 18 year old, holding an after-school job and being involved in extracurricular activities at both Samuell High School and Eastfield College.
"I like to push myself to accomplish as much as I can," Simon said.
Samuell High School Principal Juan Vega said he is proud of Simon and the other 26 seniors who make up the inaugural class of Samuell ECHS. The seniors, who also include Seth Crouch, a Gates Millennium Scholar recipient, were awarded their Associate's Degrees at a ceremony earlier this month. The accomplished graduating class is especially impressive considering while Samuell High School's graduation rate in 2007 was 36.6 percent, the school is now graduating students with Associate's Degrees.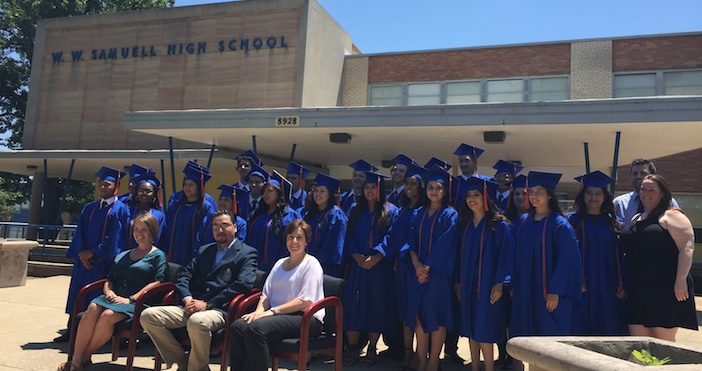 While the inaugural Samuell ECHS graduating class has 27 students, the early college high school program housed inside Samuell High School will eventually grow to 100 students per graduating class.
"It's been an incredible journey to watch these students and the program grow over the past four years," Vega said. "The students often talk about how being a part of the early college high school has transformed their lives because they are already two years ahead of their peers when they graduate."
Dallas ISD is significantly expanding its early college high school program next school year. Seven collegiate academies and P-Tech, a specialized early college high school in Seagoville, will open inside existing Dallas ISD high schools in the fall. Similar to Samuell ECHS, the collegiate academies and P-Tech will let students, at no cost to them, earn up to 60 hours of college credit or an associate's degree while still in high school.1