What happens when a second-grade bilingual teacher who loves the game of basketball and student achievement has a dream to teach basketball skills to students that do not have access to team play? The magnificent Anne Frank Elementary Basketball Club, which serves students in 2nd and 3rd grade, is what happens.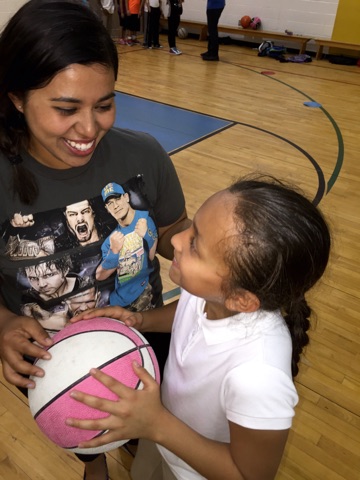 Viviane Demorais-Johnson was awarded a grant on Donorchoose.com for equipment and then recruited a coaching team. Fellow teachers Maria Reyes, David Jasso and William Robinson volunteer their time every Monday after school to get this program off the ground. The membership to the club is free.
Students are required to maintain at least a 75 grade average in all subjects and have good behavior. Every Monday they turn in a form completed by their teachers that proves their adherence to the requirements. The club now serves more than 40 students who enjoy learning skills while having fun with plenty of parents looking on.
What is next for the new basketball coach, Viv Johnson? She is looking for sponsors to provide club shirts of all the students. Interested sponsors can reach Coach Johnson at demoraisjohnson@dallasisd.org.