News that Texas Ranger Cole Hamels' foundation is donating $5,000 grants to a pair of district schools prompted surprise and elation from the two recipients at Tuesday's presentation event.
Adelfa Callejo Elementary counselor Tiffany Minor and Winnetka Elementary P.E. teacher Cassandra Benavides are still reeling from the news and hoopla surrounding the announcement that their schools are receiving the first local grants from Hamels' Foundation.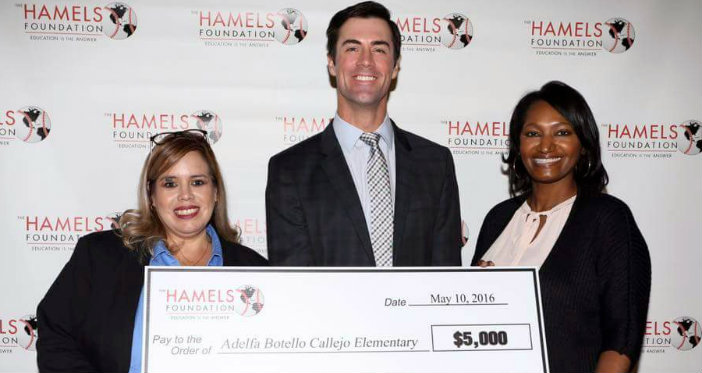 The pair met and thanked their benefactor Tuesday at a student assembly held at Winnetka to formally announce the grant presentations.
Benavides says she was surprised and elated at her selection to receive the $5,500 grant. She plans to use it to increase storage for her gym and to purchase items to increase students' access to soccer, basketball and hockey equipment.
"I'll purchase some new games to promote health and fitness and provide more equipment for the students to use at recess to improve their health and fitness," she said.
Adelfa Callejo Elementary counselor Tiffany Minor will invest her grant in a school counseling center.
"I'm so excited for the students," she said. "I envision small group tables, an iPad, and a counseling mini- library where students can talk and share their current experiences and incorporate ways to make better decisions that will impact them socially, emotionally and academically. Words can't express the gratitude that I feel."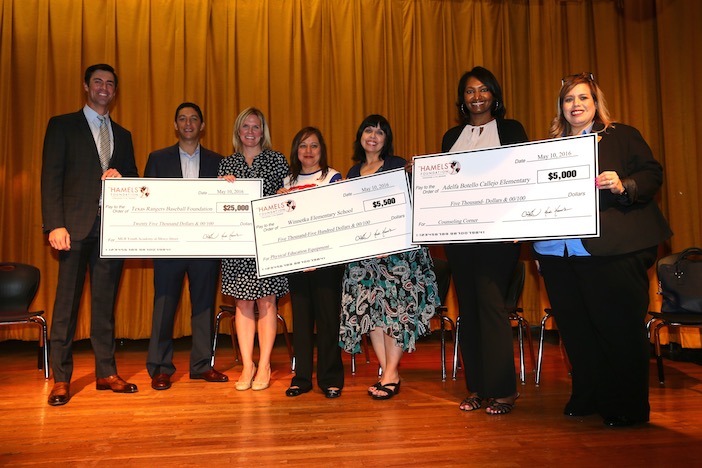 Superintendent Michael Hinojosa acknowledged the generosity of the Hamels Foundation and told Winnetka students that people like Cole Hamels and his family are investing in students' future success.
Presenting the grants to the two schools and an area youth organization, Coles, who recently joined the Rangers, credited baseball for making it possible for him to give back to the communities where he plays. Since 2009, he and his wife, Heidi, have donated more than $3.2 million to schools across the U.S. and in Africa through their foundation.
Callejo principal Sandra Fernandez sees the grant as an avenue for her school to continue its work to educate the whole child.
"In our eyes, this includes academics, emotional and behavioral development," she said. "We are extremely excited about providing a counseling center for our students and their families where they can go and feel free to express themselves."