A Dallas ISD teacher is among the top 10 finalists in one of the most prestigious national teacher recognition programs in the country.
Eric Hale, a third-grade Math and Science teacher at David G. Burnet Elementary, is one of only 10 teachers nationwide who have been named finalists for the 2016 Fishman Prize for Superlative Classroom Practice, a $25,000 award recognizing the nation's most effective teachers working in high-need public schools.
The Fishman Prize is extremely selective, boasting thousands of nominations each year and nearly 800 teachers' applications in 2016. The applicants undergo a six-month selection process, with selection decisions made based on their submitted essays, teaching videos, letters of reference, and in-person classroom observations. Hale is the only finalist from Texas this year.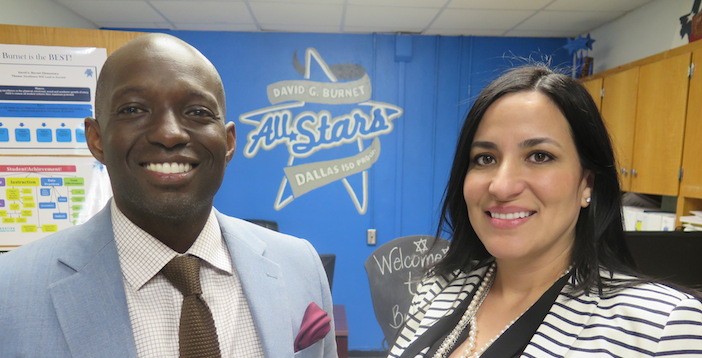 Hale and the other nine finalists will convene this weekend in New York City for interviews with an expert panel of judges at TNTP, the Brooklyn-based nonprofit that offers the award. Four of the finalists will be named winners in May, winning $25,000 each and a seat in a special summer residency with TNTP.
"I can't even explain how excited I am about being named a finalist," Hale said. "It will be an honor to represent my school and Dallas ISD in New York City."
Hale was named a Distinguished Teacher by Dallas ISD in 2015 for ranking in the top one percent in district-wide teacher performance.
When asked about his teaching philosophy, Hale says he focuses on teaching the whole child.
"My kids know that they are more than just a number," Hale said. "My kids often have rough lives and are dealing with lots of issues. I keep that fine line of sympathy and empathy while maintaining high expectations. I tell my students that I know things might be happening in their lives, but we have to push through and get to our ultimate goal."
Burnet Principal Sonia Loskot said Hale is a true leader who combines a sense of urgency with the joy of learning.
"Students look up to [him]as a mentor and a person who inspires them to have grit, and put forth the effort and achieve," she said.
Hale said his success as a teacher wouldn't be possible without the support he gets from his fellow teachers, principal, and his school feeder pattern Executive Director Tim Hise.
"Everyone in my school and feeder pattern have always been incredibly supportive and lent a helping hand whenever needed. I'm blessed to be able to work with such outstanding, caring people," Hale said. "This recognition is for everyone here at Burnet Elementary, not just me."