After 35 years of working in Texas Public Schools, Kyle Richardson, the principal of Woodrow Wilson High School, is retiring at the end of this school year.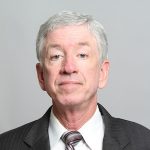 Richardson has served students and families of Dallas ISD as a teacher, assistant principal, and as the principal of Kramer Elementary School, Marsh Middle School, and Woodrow Wilson High School.
Tracie Fraley, executive director of the Woodrow Wilson Feeder Pattern/Townview Schools, sent a note to Woodrow Wilson stakeholders commending Richardson for his exemplary service.
"During his tenure, Kyle was regarded as one of the best and most effective principals in Dallas ISD. As a testament to his commitment and excellence, Kyle led Woodrow Wilson High School from a low-performing campus to the highest performing comprehensive high school in Dallas," Fraley's letter states. "In doing so, Kyle instilled a renewed sense of pride in Woodrow and as a Wildcat. Thanks to Kyle's vision and commitment to excellence, Woodrow Wilson posted the best achievement scores in the school's history when they received seven distinctions from the Texas Education Agency in 2015."
Events and activities to honor and celebrate Richardson's retirement will be posted in the "Wildcat News" and on the school's website. Plans and the timeline to interview and select Richardson's replacement will be posted in the "Wildcat News" and on the school's website in the coming weeks.
"While we wish Kyle only the best in this new phase of life, his sense of humor, dedication and leadership will be greatly missed at Woodrow, in Dallas ISD, and in East Dallas," Fraley's letter states. "Congratulations Mr. Richardson on your retirement!"