A record number of students at Carter High School have received full-ride scholarships to attend Texas Christian University.
Six seniors at Carter were awarded the TCU Community Scholarships, each valued at more than $250,000, at a ceremony on Thursday. Tissues were passed out freely as the scholarship recipients, their families, classmates, teachers and staff cried in joy throughout the ceremony. Trustee Joyce Foreman also attended the event and looked on proudly.
"This is one of the opportunities that you do not get but once in a lifetime," Principal Fred Davis told the scholarship recipients. "And we know you will make the best of it and it will impact you for the rest of your lives."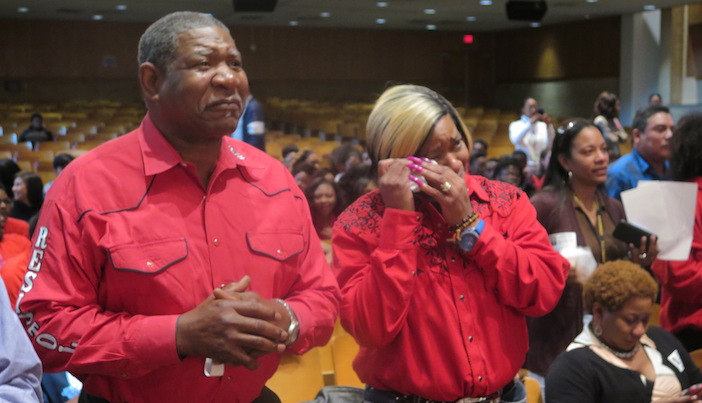 Charity Mason is among the six scholarship recipients. After her mom died four months ago, she moved in with her teacher, Lara Cardinale, so she could finish high school at Carter.
Like the other five scholarship recipients, Mason became emotional when talking about the scholarship. She detailed how her counselor pushed her and worked late with her on the TCU application. She credited her counselor and Cardinale for everything they have done for her.
"Mrs.Cardinale just stepped up as a role model and took me into her home. A lot of people wouldn't do that," Mason said. "Now I see (Cardinale) as a mom, and I don't think my mom would want anything better for me than someone who treats me like family and loves me like her family."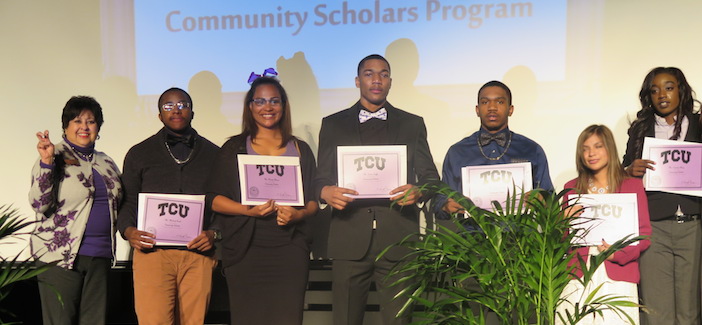 These are the other recipients of the TCU Community Scholars Program:
Reginald Cole
Michael Scott
Courtnee Avery
Tavon Griffin
Evelyn Barron
The TCU Community Scholarships are awarded based on merit, academic achievement, volunteerism, and diversity.
The Dallas Morning News and CBS DFW, and NBC DFW all produced great stories on Mason and the scholarship. Click on the above links to see the stories.