Geoffrey Canada, the former CEO of Harlem Children's Zone who was profiled in the documentary "Waiting for Superman," got a first-hand look Thursday at the great work happening at Barack Obama Male Leadership Academy.
As the Dallas Morning News points out, Canada is a rock star in the national education world. Teachers at BOMLA were noticeably excited to see him as he toured the campus and saw classes in action.
Canada visited BOMLA to see how the campus is closing the achievement gap for students of color from low-income families. In speaking on education, he credited the great teachers who, while might not be national household names, make a positive impact on their students.
"I think there are a lot of heroes in education that should be celebrated who look like you and are not in your history book," he said.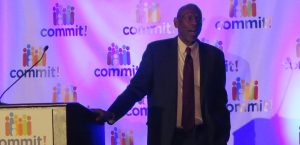 Canada was in town to give a keynote speech at Commit's annual scorecard release. Commit is a local non-profit that compiles a scorecard with data on how Dallas county students are progressing through their education career.
During his keynote speech, Canada told the hundreds of attendees about his work with Harlem Children's Zone and the critical importance of helping all students succeed, regardless of their background and socioeconomic status. And, like he did at BOMLA, Canada shared some practical advice, regardless of a person's professional calling.
"You're not as smart as you think you are, but you're not as dumb as you think you are," Canada said. "Surround yourself with people smarter than you."