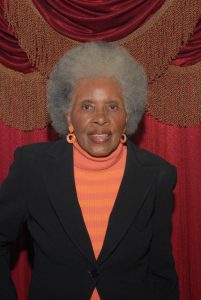 Family and friends of the late Dallas Independent School District trustee and civil rights pioneer Kathlyn Joy Gilliam will hold a ribbon cutting this weekend to mark the opening of a museum created in her honor.
The public is invited to attend the museum opening at noon this Sat., Feb. 27. The museum is housed in Gilliam's former home located at 3817 Wendelkin in South Dallas. The home was designated a city of Dallas Historic Landmark in 2015.
The new museum will serve as a community learning space and house artifacts of Gilliam's longtime involvement in education and civil rights. Saturday's ribbon cutting will include remarks by author and lecturer Rev. Zan Wesley Holmes Jr., actor and former teacher Irma P. Hall, and former Dallas ISD trustees who worked alongside Gilliam during her more than two decades on the district's board. Museum curator Marvin Dulaney, chair of the University of Texas at Arlington History Department, will discuss the museum's collection. The event will also feature tours and entertainment.
Families and friends say the museum is a fitting tribute to Gilliam's lifelong work to foster educational equity and broaden life opportunities for the city's children and families.
A trailblazer who repeatedly overcame racial barriers, Gilliam was the first African American woman elected to the Dallas ISD Board of Trustees and the first in its history to serve as the board's president. She died in 2011.
As part of the district's 2008 bond program, trustees named the Kathlyn Joy Gilliam Collegiate Academy in her honor. One of the district's five early college high schools, Gilliam Academy offers students the opportunity to graduate with up to 60 transferable college credit hours via its partnership with Cedar Valley College.
Gilliam's daughter Constance Harris, who serves as president of the museum board, said the facility will continue her mother's work to help others.
"Our mother embraced life with such love and compassion for others," Harris said. "We will continue the community service and empowerment she so passionately modeled through the work of the museum – with that same spirit of determination and respect."
Organizers say the museum will offer reading programs, summer reading camps, and computer literacy classes for youth and adults. It will also serve as a training center for debate team competitions to encourage discussion of issues in an environment that fosters communication without confrontation.
More information about Gilliam, her legacy and the museum is available at www.KathlynJoyGilliamMuseum.org or (469) 458-0208.