The approximately 40 Skyline students in Shawn Coyle's floral design class in the school's Eco-Tech cluster don't have any time for idle chitchat this week.
In their effort to trim and prepare 1,000 roses and 1,200 carnations for their big Valentine's Day flower sale on Friday, the students are hard at work taking orders and making sure each flower looks perfect. The class is a part of Skyline's Agriculture Career and Tech program.
"It's phenomenal what these students can do after just four or five months of being in this class," Coyle said. "They are able to work on the professional level."
In addition to teaching the practical skills of floral design—many of Coyle's past students have gone on to work at floral shops or start their own floral business—students in the class learn how to talk with customers and take and process orders.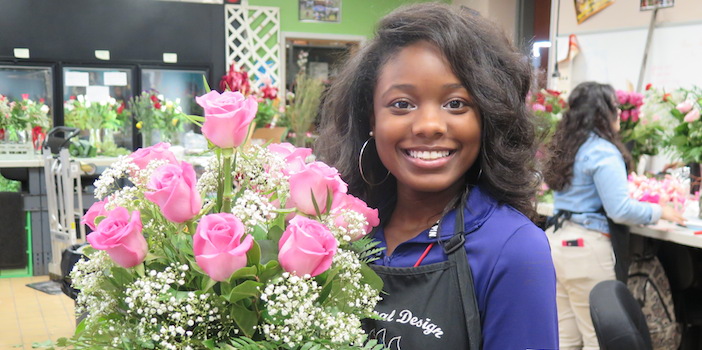 Skyline senior Jaha Gray said she enjoys when fellow students sneakily come to her to ask how much it would cost to buy a rose for their significant other.
"This class has really taught me how to interact with people," she said. "That's a valuable skill that I will use no matter what I end up doing."
The Skyline floral design class is almost sold out of Valentine's Day flowers this year, though there are still a few left. Those who are interested in purchasing flowers for Valentine's Day can contact Mr. Coyle at 972-502-3537 or scoyle@dallasisd.org.