At 6-foot-2-inches and 215 pounds, Kendrick Bright flashes a coy smile when recalling his introduction to football at just five years old.
Several years removed his days in Pop Warner— a popular youth football league where his earliest lessons on the gridiron took place—Bright will see his hard work pay off when he walks the red carpet at Dallas ISD's upcoming Athletic Signing Day.
As he prepares to celebrate signing a football scholarship with West Texas A&M University, Bright, who doubles as quarterback and wide receiver for the Thomas Jefferson High School Patriots football team, reflects on his development over the years.
"Growing up, while training, catching felt natural," Bright said. "As I got older and learned to run routes, my footwork improved. I continually challenged myself to be faster, better."
His multi-sport skills in soccer, basketball and track might speak to his versatility as a well-rounded athlete, but, more than his athleticism, Bright has excelled as a team leader.
"I didn't really want to be a leader," Bright said. "But Coach (Philip) Murray pushed me out of my comfort zone and encouraged me to be that for my team."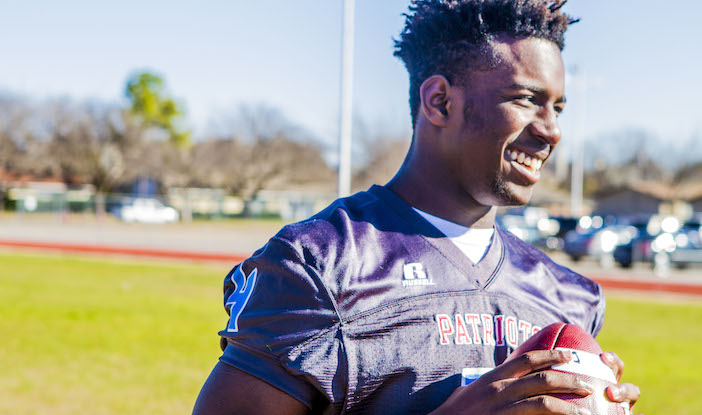 Murray, who has previously coached at schools such as W.W. Samuell and W.H. Adamson high schools, met Bright in the hallway when he started his coaching appointment in April. Murray describes Bright as "laid back until competition time."
"He's a big kid, he stands out," Murray said. "He's a hard worker who wants to do well for himself and his family, and when you put it all together, it makes for a very great young man with lots of potential."
Family is a motivating factor for Bright, who shared the field this season with his younger brother, Josh, a sophomore and first team all-district wide receiver for the team. Josh this season caught 13 passes for 396 yards and five touchdowns, all on connections from his older brother.
"Kendrick is always a good leader for his brother," Murray said. "He always demands the best from him and, as brothers, they know what the other needs. Their connection is good for both of them, their bond as brothers enhances that."
Bright this year was named the 2015 Co-offensive Player of the Year for district 11-5A, throwing for 764 passing yards and 10 touchdowns. He also gained 948 rushing yards and 12 rushing touchdowns this season.
Josh admits his older brother pushes him to be better and challenges him at the same time. Having survived some tough, off-field obstacles together, they prepare to now take on new challenges apart.
Next season, as Josh prepares to fill his brother's shoes as a team leader at TJ, Bright will make the 444-mile trek to West Texas A&M where he will compete to make his mark in the Lone Star Conference as a freshman on the Buffs football team.
The Dallas ISD Athletic Signing Day is Feb. 3 and will celebrate athletes such as Bright who are signing commitments to play at the college level.