Walk down a hallway in Kimball High School and you will notice dozens of pairs of blue jeans hanging from the ceiling above the lockers.
Stand by the hanging blue jeans for a few minutes and you will probably see a student or staff member look up and ask: "Why are there blue jeans hanging from the ceiling?"
This question is exactly what students in Kimball High School's Distinguished Academy of Hospitality and Tourism want to hear, as it means their guerrilla marketing campaign to draw attention to Teens for Jeans, which collects donated jeans to give to homeless youth, is working. The campaign is part of a project in Mrs. Olliedra Foppe's hospitality and tourism class to teach students an important marketing lesson while helping others in need.
"This project is teaching the students that a marketing campaign can be bold, unique, and come with almost no cost," Mrs. Foppe said. "And, at the same time, the campaign is raising awareness for a great cause. It's a win-win."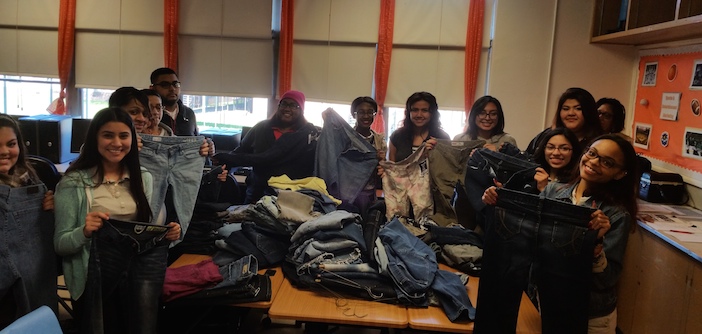 Hanging blue jeans from the ceiling is just one part of the students' guerrilla marketing plan. Next week, students will wear masks, pin blue jeans to the back of their shirts, and act as the "Denim Gang of Super Heroes" to raise awareness for Teens for Jeans. Students will also hold a Teens for Jeans-oriented flashmob dance on that same day.
Diamond, a 12th-grade student in Mrs. Foppe's class, said she has already learned valuable lessons from the marketing campaign aimed at fellow students.
"I've learned that you can do many different things to get peoples' attention without spending any money to advertise," she said.
The Teens for Jeans campaign is organized through DoSomething.org, which encourages students to be engaged with their community. The campaign focuses on donated blue jeans since they are the most requested clothing item from homeless youth.
W.T. White was the first Dallas ISD school to participate in Teens for Jeans in 2010. The school received media attention for its efforts and won an award for the number of jeans collected by students.
Daniela Mora, an eighth-grader at Robert T. Hill Middle School, then brought the Teens for Jeans spotlight back to Dallas ISD last year. She is again leading a Teens for Jeans campaign at her school this year and has received even more community and school support than last year.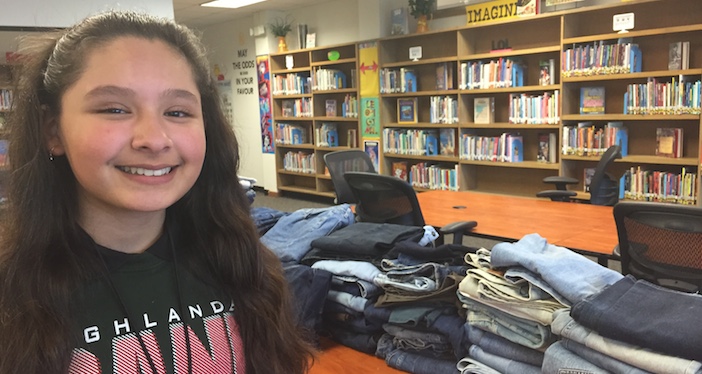 Mora was originally interested in Teens for Jeans because it provided a chance to win a $5,000 scholarship to college. However, as she became more involved in the campaign, she grew focused on how she could involve the community and help others.
"It's taught me the great value of teamwork and how good it feels to help someone else out," Mora said. "It's been amazing to see the community come in and support Teens for Jeans."
Maria Rodriguez, the Hill Middle School librarian who has helped Mora with the campaign, said she has enjoyed watching Mora's perspective grow over the past two years.
"We are so proud of Daniela and how she has been proactive," she said. "She is truly a role model to the other students here."
Anyone interested in supporting Teens for Jeans can drop off their used blue jeans to Kimball High School, 3606 S. Westmoreland Road, Hill Middle School, 505 Easton Road, or Casa View Elementary School, 2100 Farola Drive.