Leslie Romero, a fourth-grade student in the dual-language program at Harrell Budd Elementary, has many reasons she is thankful to be bilingual and biliterate.
For starters, she is able to help her Spanish-speaking parents when they need to translate or understand something in English. She also knows that being bilingual and biliterate will be useful when she looks to get a job down the road.
But knowing two languages provided an extra bonus this month, as her essay titled "Why I'm Proud To Be Bilingual" won first place in the National Association for Bilingual Education (NABE) Essay contest for the elementary school division. Winning first place means Romero gets $500; air travel for her and one of her parents to fly to Chicago to attend the NABE Conference Awards Luncheon on March 4; two nights lodging at the NABE Conference Headquarter Hotel; NABE Awards Luncheon tickets; and NABE Conference registration.
"I'm excited to fly on a plane for the first time, see Chicago, and read my essay," Romero said. "I still can't believe I won."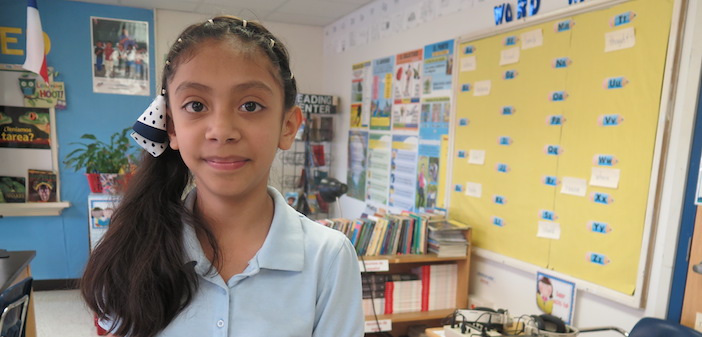 Budd Elementary Principal Israel Rivera said the whole school is proud of Romero's accomplishment. He said she now serves as a role model for other students to show them what they can accomplish.
"NABE's recognition of Leslie shows that our dual-language program is working," Rivera said. "Our teachers are working hard to build a foundation for our kids to be bilingual and biliterate. This shows their work is paying off."
Romero's win marks the third consecutive year Mrs. Chavez, a teacher at Budd Elementary, has had a pupil take the top prize in the NABE Essay contest. This is Chavez' first year at Budd Elementary; she has previously taught at Martin Weiss Elementary. Chavez said she wasn't surprised that a Budd student won this year's essay contest.
"It's great because, at the beginning of the school year, I saw that this school had very talented writers," she said. "It's been rewarding to help the students build on that foundation and help them meet their potential."
Asked what she plans to do with the $500, Romero said she is planning a trip to the mall with her best friend. She will then use the rest of the money to help her family.
And while she is visibly excited about winning the NABE essay contest and the rewards it brings, Romero said she is most proud of being bilingual.
"Knowing two languages is something wonderful; it's like having two cultures," Romero writes in her NABE essay. "My parents don't want me to forget my culture, but they want me to continue to respect my second language. There are lots of reasons being bilingual makes me proud. One thing that makes me proud is that no one can take being bilingual away from me."