Ashley Fortner-Dominguez always had a love for education, but never thought she'd make a career out of it. She was more intrigued by Middle Eastern studies and international relations. While studying abroad in Jordan, she picked up a job teaching English as a foreign language to first-graders at a private school. Though she didn't fully realize it at the time, that experience would change the course of her life.
"When I dipped my feet it, I didn't want to leave," she says. "I just forced myself to leave [the classroom]and get my master's, but there was an unfulfilled part I wanted to keep exploring."
It may have taken a trip halfway around the world to 'dip her feet in,' but Ashley had been watching from the perimeter for years. Her mother taught preschool at Dallas ISD and she basically grew up in her classroom. She spent community service hours at the school with her mother because she saw it as a good way to give back; plus she really enjoyed it. Even when she was in college she would teach English as a Second Language classes to faculty and staff who wanted to learn, and spent time tutoring high school students. But it was her mother's passion for teaching, and the effect it had on so many, that impressed her most.
"Her passion for teaching literally transformed a lot of her students," Ashley says, recalling how some parents didn't think college was even a possibility for their kids, but after working with her mom, both students and parents began to see their potential and then realize it. Some of those students are still in contact with her now.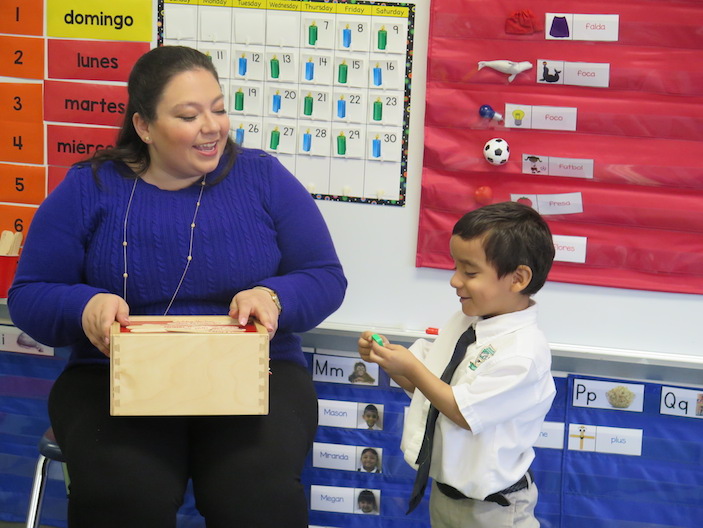 Despite her constant connection, Ashley's was never a direct path to the classroom. And that's part of the reason she was such a great fit for Dallas ISD's Compass program. With her degrees in Middle Eastern studies and international relations, and with her experience abroad, she brings a different perspective to teaching.
"People who know early that they want to teach are lucky, but it was great for me to have that experience studying other cultures and living abroad," Ashley says. "My scholars already understand that the world is bigger than the little space we live in, but I get to help them expand on that idea even more because of my background. My previous training and experience also help me focus on finding common ground when working with people from different backgrounds and cultures."
Today, Ashley—who grew up in a Spanish-speaking home in Dallas—teaches bilingual preschool students who in many ways reflect her own childhood and culture. "I can really see myself in some of my students," she says as she imagines their potential.
Now, thanks in part to her training at Compass, which included practical feedback from "fantastic" mentors, hands-on training in the classroom, and course materials that sharped her approach to teaching, Ashley helps her kids reach that potential. She also broadens their views of the world while simultaneously helping them maintain the richness of their own language and culture.
o "Applications to Compass are now open. Apply now"
o "Do you know someone who could be great teacher? Refer them to Compass here!"