Great things are happening in Dallas ISD schools every day.
Show and Tell is a weekly feature on The Hub that rounds up some of the news happening across the district into one place. If you have any story ideas for Show and Tell, email thehub@dallasisd.org.
Retired teachers book it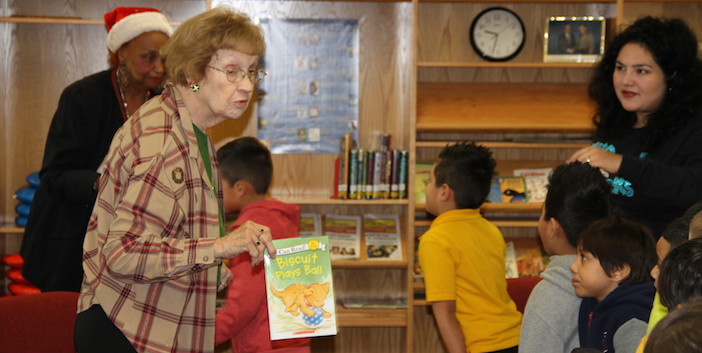 Participants deemed The Dallas Retired Teachers Association's 2015 Children's Book Project a huge success this year. The Children's Book Projects is a service activity from the local units of the Texas Retired Teachers Association that gives books to the children who need them. The DRTA has been providing books for the past 25 years. The DRTA has provided a total of 3,025 books this year, including to students at Nancy J. Cochran, Charles A. Gill, and Sam Houston elementary schools.
Dough for dough (and other culinary items) at Conrad High School
The Whole Foods at Park Lane last week partnered with Emmett J. Conrad High School for its Community Giving Day. The Whole Foods giving day raised $3,815.50 for Conrad's culinary program, which includes a restaurant entirely run by students.
Kimball Dia de los Muertos Art Study
Justin F. Kimball High School Advanced Art students studied the rich tradition of Dia de los Muertos, a day in which families honor lost loved ones in Spanish culture. The project, spearheaded by Kimball art instructors Julia Smith and Lenell Lee, allowed students to create masks in honor of the tradition culminating in a colorful and creative exhibit and cultural case study. Kimball art students also used this opportunity to reflect on their own family histories. Skills gained from the project were utilized to support face-painting activities at the school's recent Family Night event.
Heartwarming Kool news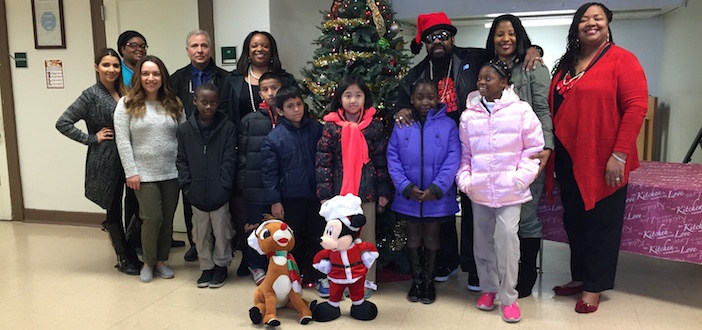 Carla Harrell, owner of The Rhinestone Artist, and Sir Earl Toon from the world renowned band Kool & the Gang helped students this week by sponsoring their third-annual "Give a Kid a Coat Drive." The campaign provided Dallas ISD with 1,000 coats. On Dec. 17, Harrell and Toon stopped by JJ Rhoads Elementary to donate more than 200 coats and talk with students. The district will distribute the coats to homeless students.
Tis the season

On Dec. 9, the Dallas ISD Human Capital Management Elementary Staffing team brought holiday cheer to J.J. Rhoads Elementary. The staffing team passed out candy canes to students, provided snacks and refreshments for teachers. Several employees dressed up as Santa, Olaf, and an Elf. The HCM team also collected clothing donations for the campus and distributed the clothes to the students as needed.
A "Frightened Frog" finds a home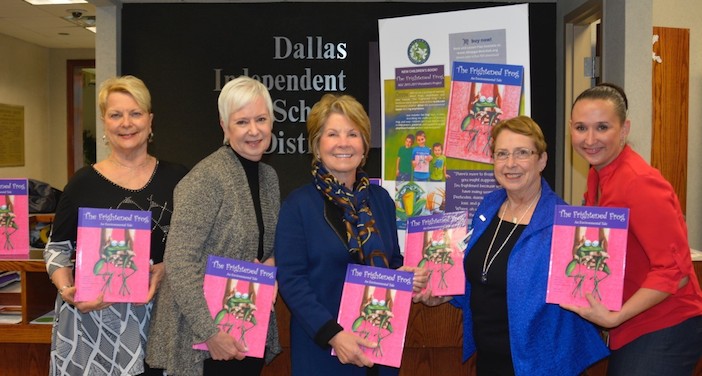 The Designers and Diggers Garden Study Club of Dallas raised funds to donate the newly published book, "The Frightened Frog, An Environmental Tale," to every Dallas ISD elementary school. Gay Patrick, Dallas ISD Library Services Director, received the donation of the more than 150 books on Tuesday. Under the umbrella of National Garden Club, Inc, the Designers and Diggers Garden Study Club adheres to the mission of protecting and conserving natural resources, providing education and promoting civic and environmental responsibility.
An anchorwoman's homecoming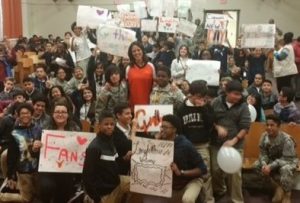 WFAA News 8 anchorwoman and TJHS alum Cynthia Izaguirre visited her old middle school campus last Monday. A young Cynthia Izaguirre roamed the halls of Longfellow Academy before becoming a local celebrity. During her appearance, Izaguirre shared words of wisdom with her fellow Longfellow Longhorns. (From Thomas Jefferson Feeder Pattern newsletter)
Mock interviews at Bryan Adams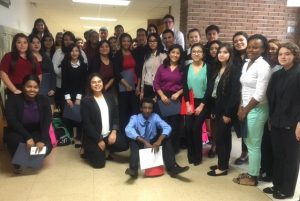 Last week, Bryan Adams had more than 30 guests from the community help with the Advancement Via Individual Determination (AVID) Mock Interviews in the school library. The more than 100 AVID students gained real world experience during the mock interviews and received many compliments on their attitudes, preparedness, attire, and showmanship. (From the Bryan Adams Feeder Pattern newsletter)
Henderson Elementary charts a win
The second annual Elementary Geography Bowl for third-, fourth-, and fifth-grade students was held last weekend at Dade Middle School. Students from Margaret B. Henderson Elementary won first place; Edwin J. Kiest Elementary won second place; James Bowie Elementary won third place; and Gilbert Cuellar Elementary won fourth place. The Dallas ISD Geography Bowl targets social studies students in grades 3–5 to explore geographic issues, raise awareness of how geography connects with everyday life, and increase interest in geography on their campuses.