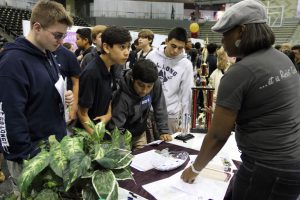 Families searching for a best-fit school for their students should make definite plans to attend this Saturday's Magnet and School Choice Fair showcasing the full spectrum of magnet and school choice options. The fair is set from 9 a.m. to 1 p.m., Sat., Dec. 5, at Ellis Davis Field House, 9191 S. Polk St.
Magnets and school choice programs have specially designed curriculums fashioned to respond to students' aptitudes, career interests and learning styles. From middle schools that offer instruction in the arts and STEM to early college programs where students can take college classes while still in high school, the options in Dallas ISD are many and growing.
Giving families more options from which to choose is one avenue the district is using to excite students about learning and improve access to diverse learning opportunities with the aim of raising student achievement. In response to surveys reflecting growing public interest in additional educational options, the district has set its sights on establishing 35 new choice schools by 2020.
"The survey results are convincing. There is clearly a demand for more public school choice options in Dallas ISD," said Mike Koprowski, chief of Transformation and Innovation.
The magnet and school choice fair will feature exhibits and staff from a range of programs available to students who are academically gifted, have an interest in specialized studies, or possess unique talents. Parents can meet the staff and students of these schools, pick up literature, ask questions and get assistance with applications. Virtually all of the magnets and choice schools will open their doors for families to get a close-up look at their programs this month and next. To view open house dates for magnets, go here. School choice open house dates are listed here.