W.H. Adamson High School head drum major David Reynoso was about to help lead a marching band performance last year when his marimba literally fell apart seconds before he was scheduled to perform.
Reynoso barely put the marimba back together in time for the performance, which he then spent worrying whether his instrument would fall apart again.
But now, thanks to the $100,000 Farmers Insurance Thank America's Teachers grant the Adamson band received yesterday, broken instruments will be a problem of the past. And for students such as Reynoso, new instruments for the school band means focusing on what matters most: the music.
"Having good, new instruments will be just one less distraction as we try to play music the best we can," said Reynoso, who is also the class valedictorian and class president.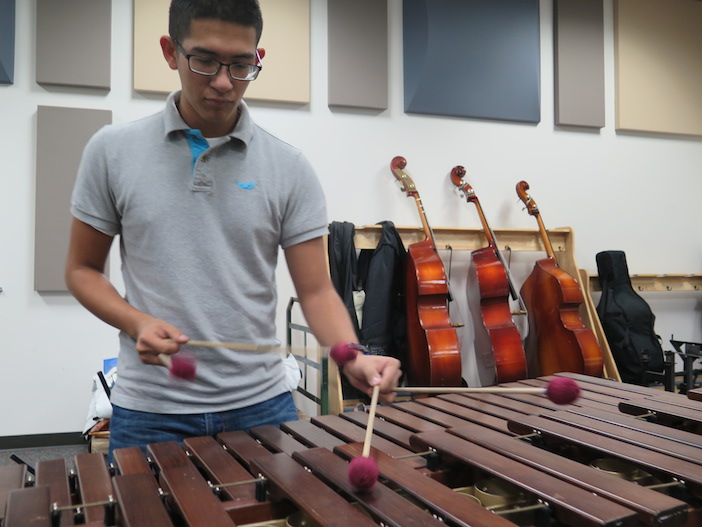 Adamson Band Director Christopher Green and Assistant Director Aaron Crawford submitted a proposal for the Thank America's Teachers grant and landed in the finals among 15 other programs from across the country. To win, a video produced by Adamson had to receive the most nationwide votes from viewers. The school was in third place going into the final vote tallies, which meant Monday's ceremony announcing the school won the grant came as a big surprise to students and staff alike.
"Getting this money really is like a dream come true," Reynoso said. "Being here for four years, this was a day we've worked up to. It's the start of a new chapter."
The school is going to use the $100,000, in part, to purchase a new set of drum line equipment, new brass instruments, and new woodwind instruments for concert season. Crawford said the instruments should be all purchased and ready to be played by the start of next school year.
"It's just a great feeling to know we will be able to put instruments in our kids' hands and have them just work," Crawford said. "We are very, very grateful to Farmers Insurance and the greater community in helping make this dream come true."