As of Nov. 20, more than 78 percent of Dallas ISD seniors had applied to at least one college.
Dallas ISD Goes to College Week, a weeklong push from Nov. 16–20 that encouraged district seniors to apply for colleges and universities, helped the district surpass a goal of having 70 percent of seniors apply to at least one college by Nov. 20.
In addition to emphasizing that it pays to go to college, Dallas ISD Goes to College saw central staff volunteer to share their college experiences with seniors.
Oscar Rodriguez, a Dallas ISD Educational Technology employee, volunteered at Dr. Wright L. Lassiter Jr. Early College on Friday. The 1998 School for the Talented and Gifted at Yvonne A. Ewell Townview Center graduate was the first in his family to graduate both high school and college.
"I personally understand the power that education has to change the trajectory of someone's life," said Rodriguez, a former teacher who recalls how setting expectations for pursuing higher education led one of his former students to do just that.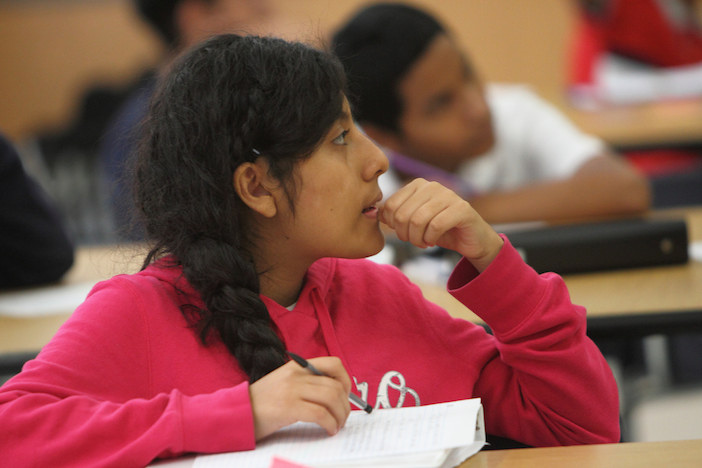 Moises E. Molina Lead Counselor Tiffany Gilmore said her campus had a week filled with events promoting college and career readiness for all of Molina's students.
With approximately 8,000 seniors to reach, Dallas ISD counted on district central staff to step in to assist and encourage as many students as possible to take the first step towards getting to college—the application.
A number of district campuses voiced a need for support from central staff in driving home the emphasis of Dallas ISD Goes to College Week for district seniors.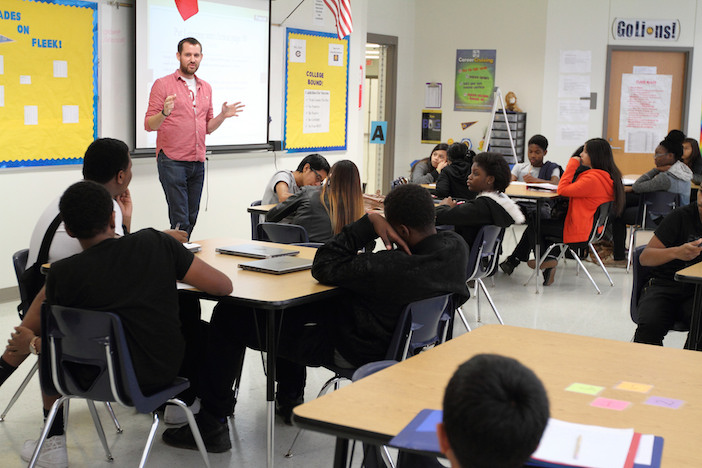 "We invited 20 volunteers to share their personal journey regarding the college and career process with students, especially those students who are at risk of not pursuing post-secondary educational opportunities," Gilmore said. "Having the opportunity to work side-by-side with central staff members to encourage students to apply to college showcases that, as a district, we all have a commitment to children."
"As central staff, we are often several layers removed from working with students, but we cannot forget they are the ultimate beneficiaries of our efforts to accomplish the mission of Dallas ISD," said Rodriguez, who shared his own story of how he was able to complete a Bachelor of Business Administration in Operations Management from the University of Texas at Arlington and a Master of Science in Online Learning from Texas A&M Commerce.
Possibly one of Rodriguez' strongest pitches to students was how far he has come as a first generation graduate in his family. He is currently pursuing his Master of Business Administration in conjunction with his Doctorate of Education.
"More than anything I encouraged and motivated students to see the long term value of higher education," Rodriguez said.
For reference, the following chart compiled by the College Board shows that lifetime earnings for graduates with bachelor's and advanced degrees far exceed those of high school graduates.